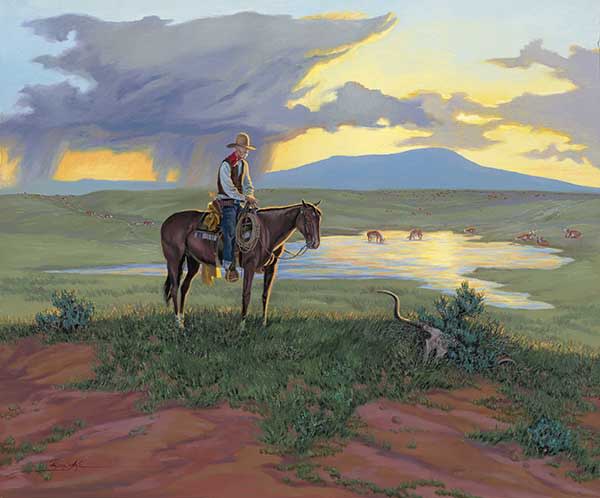 Combine artistic talent, knowledge of the history of the American West, experience as a cowboy, and some old-fashioned work ethic, and the result is an amazing collection of paintings that fit right in at the New Mexico Farm & Ranch Heritage Museum.
Thirty of the Santa Fe artist Ronald Kil's works are featured in a temporary exhibit – Ronald Kil: Spanning the Range -- which opens on April 16. An artist's reception, that is free to the public and includes refreshments, is from 6-8 p.m. on April 16.
Kil's colorful, historical Western art has a strong emphasis on history.
"My work is all historical in nature, but with wide-reaching boundaries," Kil said. "My time periods encompass the paleo-Indian hunters of 7000 B.C. to the cowpunchers of the 1920s. I also paint a great many game animals and livestock, but again, they are done from the past."
A former cowboy, Kil left the ranches to become a full-time artist and illustrator in 2001. He works in oil, watercolor and ink.
Kil's work has won numerous awards for historical significance. In 2012, works from a 100-foot mural he was commissioned to paint for the Frank Brownell Museum of the Southwest in Raton, were chosen to illustrate the official New Mexico Centennial Calendar. His commissioned painting for the calendar was also the Official New Mexico Centennial Poster, with the original now in the collections of the New Mexico Farm & Ranch Heritage Museum.
"The heritage of the Indian, Mexican and Anglo is all portrayed without historical bias," he said. "I like to give those who came before their due. Whether they're good guys or bad guys, I leave that to the viewer. I'm an impartial historian with an eye towards a colorful palette."
Kil is also a noted illustrator. Two children's book series that he illustrated – The Songs of the Cowboys, and The Children of the West – have won numerous awards. He has illustrated more than 33 books and enjoys working with authors to make history come alive.
The show will be in the Museum's Arts Corridor through Aug. 2.