[vc_column][ultimate_heading main_heading="Las Cruces Farmers & Crafts Market" main_heading_color="#dd3333" alignment="left" main_heading_font_family="font_family:Open Sans|font_call:Open+Sans|variant:600" main_heading_font_size="desktop:30px;" main_heading_style="font-weight:600;"][/ultimate_heading][vc_column][minti_divider style="3"][vc_column]
"I've come for lettuce, but leave with music in my ears, crafts in my hands and enough smiles to last through the week."
[vc_column][minti_divider style="3"]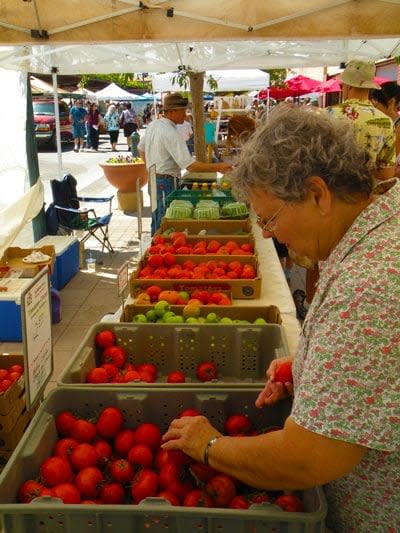 By: Sara Sheehy
The welcoming atmosphere of the award-winning Las Cruces Farmers & Crafts Market is evident as I step onto Main Street. The first set of eyes I meet – a man playing a large xylophone alongside an amplified jazz recording – returns a big smile. As I dive deeper into the market, the smiles keep coming.
The Las Cruces Farmers & Crafts Market is an intoxicating mix of produce, artisan crafts and mouth-watering prepared foods. There are extravagant displays of produce, and farmers have brought hardy greens, asparagus and fat, ripe tomatoes. Eggs, sprouts and the famous local pecans round out the ingredients for the freshest salad I've had in months.
[vc_column][minti_divider style="3"]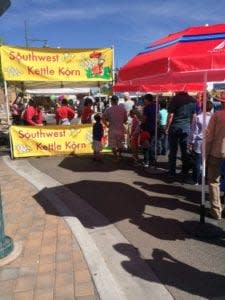 To curb my appetite, and to prevent me from slicing open a newly purchased tomato, I grab a fresh toasted bagel with green chile cream cheese at the BakeHouse food truck. Wood-fired pizza, burritos and Greek pastries tempt me as I walk slowly through the market. Every food vendor has a smile, a wave or a flexed bicep to share.
A line of market patrons hiding in the shade of bright white umbrellas catches my eye. I peek around them to see a modest booth with two women scooping popcorn into bags and sprinkling seasoning on top. From the line of people walking away with huge tubes of Southwest Kettle Korn under their arms, I am convinced it's worth the wait. 
[vc_column][minti_divider style="3"]
Musicians busking at street corners put a spring in my step. A couple of the instrumentalists are high school students, bravely playing the trumpet and violin for the crowd. I admire their entrepreneurial spirit; my teenage self wouldn't have been so daring. Other music groups have clearly been together a long time, their songs comfortable yet intricate.
Dogs are welcome at the Farmers & Crafts Market, and they trot beside their owners, sniffing the air around the food trucks and tables selling grass-fed beef and pork. New Mexico-raised meat is available from a handful of vendors, who are happy to discuss the loving effort that goes into their enterprises.
[vc_column][minti_divider style="3"]
Pride of workmanship is evident at the myriad of craft booths set up throughout the market. Artist Rick Rotante is actively sketching on an easel while patrons peruse his framed oil paintings and charcoal drawings. I spot crafters sculpting with recycled materials, knitting and embossing patterns on leather. The market isn't just an opportunity to sell their art, but also to show off their craft.
I've walked from one end of the market to the other and realize how many of the 300 vendors I've missed. I turn around and start again. I stop at Organ Mountain Outfitters, an apparel company that donates $2 to the local school lunch program for every $20 shirt sold. Jewelry maker My Grandmother's Broken Dishes sells necklaces and earrings made from antique plates. New Mexico Soap advertises "ugly and pretty" soap bars, and dogs from the Animal Service Center of Mesilla Valley are looking for a belly rub and a forever home.
[vc_column][minti_divider style="3"][ultimate_heading main_heading="Farmers & Crafts Market of Las Cruces" main_heading_color="#dd3333" alignment="left" main_heading_font_family="font_family:Open Sans|font_call:Open+Sans|variant:600" main_heading_font_size="desktop:25px;" main_heading_style="font-weight:600;" sub_heading_font_family="font_family:Open Sans|font_call:Open+Sans" main_heading_line_][/ultimate_heading][minti_spacer ]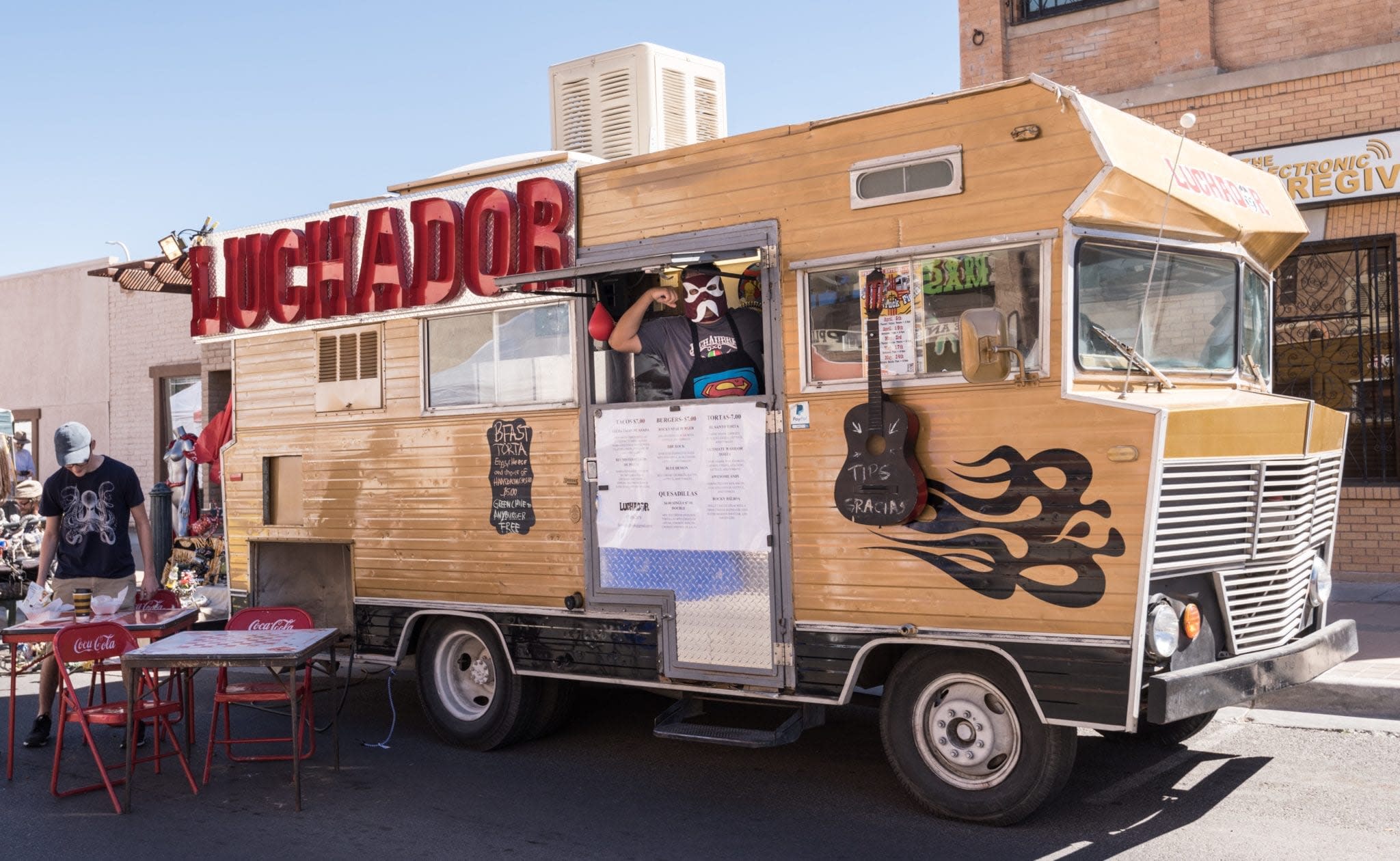 [minti_iconbox icon="fa-map" title="On Main St. in downtown Las Cruces, Las Cruces, NM 88001"][/minti_iconbox][minti_iconbox icon="fa-calendar" title="Saturday: 8:30 A.M. – 1:00 P.M."][/minti_iconbox][minti_iconbox icon="fa-calendar" title="Wednesday: 8:30 A.M. – 1:00 P.M."][/minti_iconbox][minti_iconbox title="(575) 201-3853"][/minti_iconbox][vc_column][minti_divider style="3"][ultimate_heading main_heading="Get the best of Las Cruces on the go with our new free mobile app" main_heading_color="#dd3333" heading_tag="h1" alignment="left" main_heading_font_family="font_family:Open Sans|font_call:Open+Sans|variant:600" main_heading_font_size="desktop:25px;" main_heading_style="font-weight:600;" sub_heading_font_family="font_family:Open Sans|font_call:Open+Sans" main_heading_line_ main_heading_margin="margin-bottom:25px;"][/ultimate_heading][minti_image img="17325" lightbox="2" url="https://itunes.apple.com/us/app/visit-las-cruces/id1222700134" target="_blank"]
[minti_image img="17324" lightbox="2" url="https://play.google.com/store/apps/details?id=com.visitapps.visitlascruces" target="_blank"]
[vc_column][minti_spacer ]