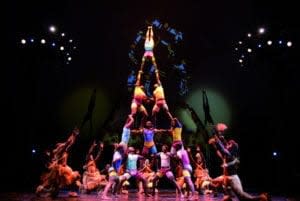 The Doña Ana Arts Council proudly continues its 2015/16 Variety Series with an evening blending traditional arts and circus skills done African style as Cirque Zuma Zuma takes the stage at 7:30 p.m. Friday, April 22, at the historic Rio Grande Theatre in Downtown Las Cruces.
Back to the Rio Grande after a sold-out performance last season, Cirque Zuma Zuma is a high-energy dance act – part Cirque du Soleil, part Harlem Globetrotters, fast-paced and full of acrobatic ingenuity rooted in the music, dance and storytelling cultures and traditions of the African continent.
Looking to Africa for inspiration, Cirque Zuma Zuma founder and producer John Jacob said, "After traveling the world as an acrobat, circus and street performer, I returned to African to audition talented youngsters from 16 African nations and founded a training school and circus."  Africa is the cradle of humanity and ultimate source for all music, dance and ritual, a continent that for many calls to mind magic, mysticism and excitement.
Featuring an array of rarely seen talents, Cirque Zuma Zuma will amaze audiences with a glimpse at a number of African cultural traditions; male, female and children dancers and vocalists, South African gumboot dancers, incredible pole acts, comedy, Gabonese tumblers, Ethiopian foot-table juggling, Ethiopian contortionists, Zimbabwean percussionists, the Zuma Zuma Acrobats and more will entertain and amaze.
The Rio Grande Theatre is located at 211 N. Main Street, in Las Cruces. Doors open at 7 p.m. and the performance begins at 7:30 p.m. Reserved-seating adult tickets are $42.50 for Main Floor and $32 for Balcony Seating; $12 all seats for children 12 and younger; and $22 for student tickets with ID, balcony only. Prices include all fees.
Tickets may be purchased via the website at www.RioGrandeTheatre.com , by calling (575) 523-6403, in person at the Rio Grande Theatre box office, 2nd floor at the theatre, Monday through Friday, 9 a.m. to 5 p.m., or at the door 1 hour prior to show time. For more information, please call (575) 523-6403.