Written by Rob McCorkle
New Mexicans today like their ancestors revere the fiery chile cultivated centuries ago in Pueblo and Hispano communities up and down the Rio Grande – from Taos to Tortugas. The varieties consumed today trace their lineage to a heirloom variety, the 6-4, bred in 1894 by Fabian Garcia at Las Cruces' New Mexico College of Agriculture and Mechanic Arts, known today as New Mexico State University. His pepper rated 1,786 Scoville Heat Units.  Today's most popular chile varieties – Rio Grande, Sandia and Big Jim – clock in at from 2,500 to 10,000 Scoville Heat Units.
Chile shares the State Vegetable honor with frijoles (pinto beans). The State Question, often heard at restaurants when customers order a dish that includes chile is: "Red or Green?"  Flame-roasted green chile is typically spicier than dried, rehydrated and ground red chile.  In addition to traditional green and red chile Mexican dishes, a plethora of chile-infused foods run the gamut from green chile chicken wontons and green chile chocolate bars to green chile vodka and green chile milk shakes. Perhaps the most revered among chile-loving New Mexicans is the green chile cheeseburger, which has been elevated to superstar status in the Land of Enchantment. In 2009, the state's tourism department initiated the Green Chile Cheeseburger Trail. Each year, chefs compete to see who wins the state's Best Chile Cheeseburger crown.
Visitors to Las Cruces can enjoy cheeseburgers adorned with chopped or "slabs" of green chile grown locally, as well as revered chiles from sacred ground zero in Hatch some 33 miles north. You can even download a Las Cruces Walk of Flame map.
Green chile cheeseburgers are a staple at the half dozen Las Cruces craft breweries.  There's no better way to chase a bite of spicy burger than by quaffing a handcrafted brew. A recent sojourn to the local craft breweries revealed the subtle differences in green chile cheeseburgers on pub menus around town.
Albuquerque-based Bosque Brewing Company's beer is delivered fresh to their restaurant and its companion taproom right across the street from the NMSU campus.  Choose from a half dozen regular varieties, such as Pistol Pete's 1888 Ale, Brewer's Boot Amber and Bosque IPA and Scotia Ale, and a host of seasonal brews. I tackled Bosque's half-pound green chile cheeseburger (GCC) with Kobe beef, Muenster cheese and hot chopped Hatch green chile on a Kaiser roll ($12) accompanied by a pile of crisp garlic and sage fries. Word of caution: the juicy concoction can make the roll a tad soggy, so hold on tight. An 11-ounce Brewer's Boot went well with the belly-busting burger.
The oldest craft brewery in Las Cruces -- High Desert Brewing Company --serves a tasty, green chile cheeseburger made with a handmade patty that gets rave reviews, and rightly so. It's one of the few places that offers the chile as a filet or chopped, and either mild or hot. I opted for the small slab of mild green chile. The "big burger" comes with American cheese on a Kaiser roll ($7.59). Mustard, lettuce, a tomato and purple onion come on the side. Choose from a variety of side dishes: big, crunchy fries, potato chips, potato salad, tater tots, a garden salad or carrots and celery. Eat inside the pub or on the front patio surrounded by trees and shrubs. My favorite brew, Oktoberfest, can be found practically year round, not just in the fall, so that was my choice. Munch while you listen to live music Thursday and Saturday nights.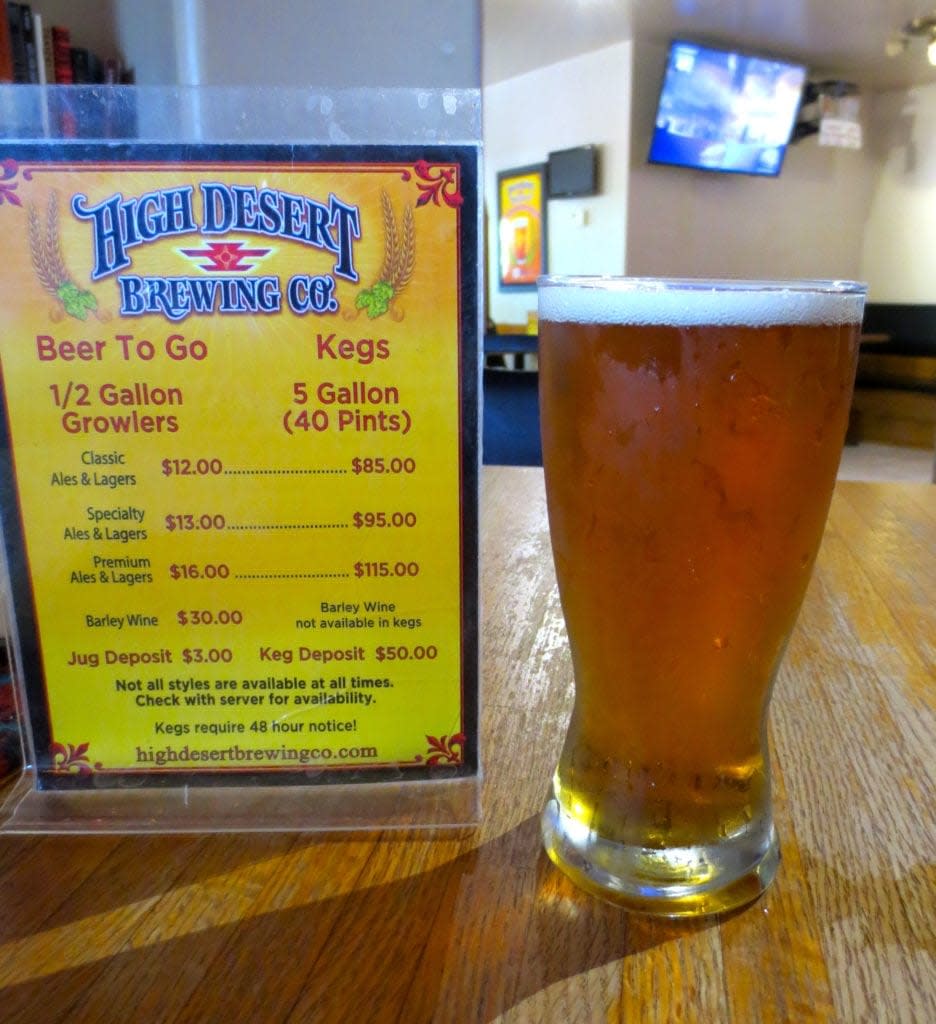 The newest kid on the local craft brewing block – Icebox Brewing Company – serves more than a dozen styles of brews amid its polished warehouse setting in a former ice plant that's more than a half century old. Sit at the bar, a table or on the front porch while enjoying a cold one. Patrons can grab a bite from the Ruby Soho food truck permanently parked out front. Seeking a brew that pairs well with a GCC, I took the waiter's suggestion and ordered a pint of the She's Snow Angel Blonde Ale, a light but flavorful beer. It proved the perfect complement to the freshly prepared Green Chile Burger, a 5-ounce beef patty ($8) topped with slightly piquant chopped chile in melted American cheese, shredded lettuce, tomatoes, onion and mayo. I loved the thin, crispy fries that came with the burger. Pick up a souvenir beverage wrap to keep your brew cool from the only brewery in town to wisely stock such an item.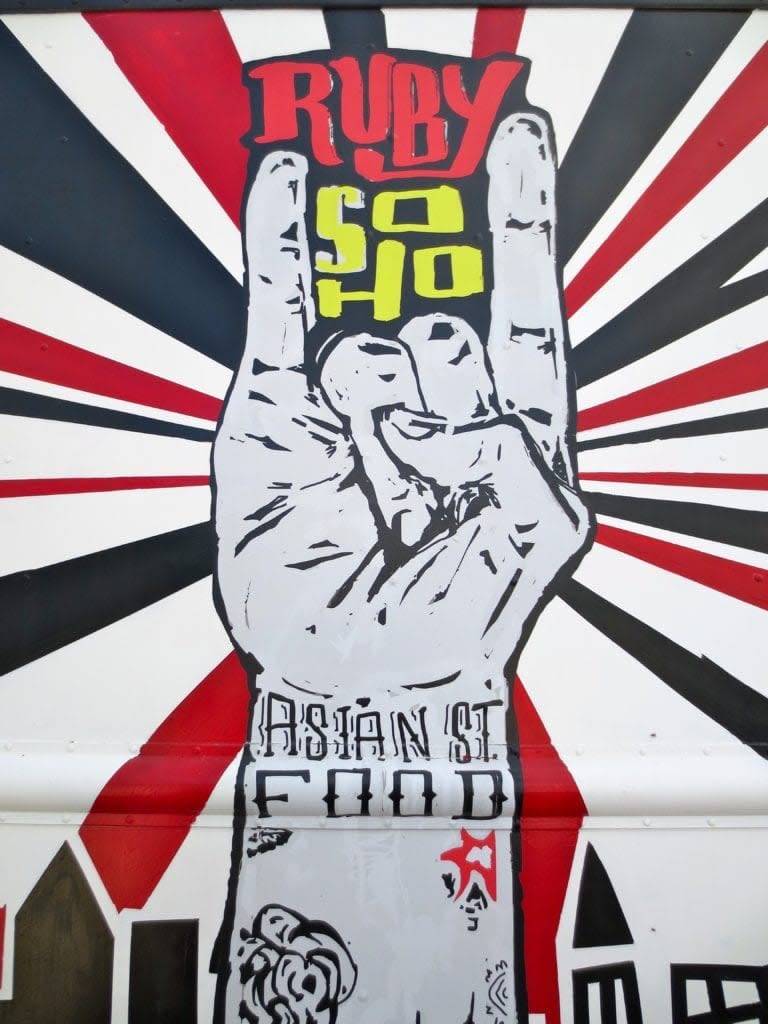 Pecan Grill & Bar on the east mesa offers not one, but two, variations on the green chile cheeseburger. Wash them down with more than a dozen different styles brewed at Sierra Blanca Brewery in Moriarty and trucked to Las Cruces weekly. You can tackle a 12-ounce monster GCC – the PGB burger with bacon, an egg and red or green chile – or go for the toothsome eight-ouncer, which I did. This gourmet burger ($11.95) features a meat patty stuffed with American and white cheddar and topped with chopped Hatch green chile and garlic aioli. Tomatoes, lettuce and a purple onion slice come on the side. Choose French fries, garlic fries or sweet potato fries to accompany your burger. On my visit, the top of the bun was a bit crunchy, but the scrumptious burger overcame that minor flaw.  A small green chile lager proved the right choice to go with burger and sweet potato fries.
Picacho Peak Brewing Company, offers a GCC under its "Build Your Burger" option that allows customers to add chopped Hatch green chile and a slice of Swiss, cheddar or cheddar jack for 50 cents each to the $12 basic burger that features a beef patty and roasted red pepper mayonnaise on a toasted bun with lettuce, tomatoes and purple onion on the side.  Doctor your burger with mustard, mayo or ketchup from provided packets. Choose from a house salad or crunchy French fries. The suggested green chile beer – a mellow, amber-colored brew – proved ideal to cool down the slight burn from the burger's hot Hatch chile.
In Old Mesilla, the Spotted Dog Brewery, open daily, has been creating dozens of different styles of tasty brews since opening in 2014. Choose from more than dozen regular ales and ambers, IPAs, witbiers and stouts and a host of seasonal beers like the Mexican-style Cerveza and Irish Red. The Dog serves a 1/3 pound Angus beef burger with Monterrey jack, slathered with chopped Hatch green chiles on a toasted bun with traditional condiments on the side. The GCC ($7.95) comes with regular fries, but take a walk on the wild side with some garlic fries, sure to keep the vampires at bay. The Amber Ale on a hot summer day proved the right call.
To learn more about New Mexico's chile heritage and pick up some chile seeds and products to take home, visit the Chile Pepper Institute in Gerald Thomas Hall on the NMSU campus.