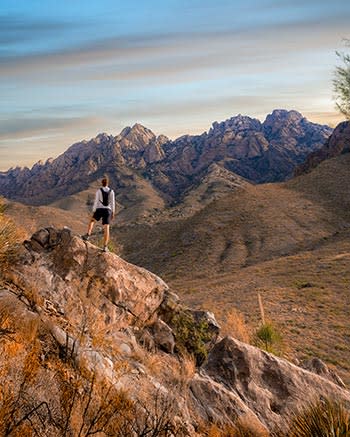 January 25 is National Plan for Vacation Day and, to celebrate, Visit Las Cruces invites you to start dreaming of your next trip! To help with your planning, here are some of the best things to experience in Las Cruces in 2022:
Unforgettable outdoor adventures for all seasons – The weather is great year-round in Las Cruces, and with state and national parks, national monuments, and hiking and biking trails for all skill and comfort levels, it's the perfect setting for your next outdoor excursion. Take in the scenic mountain views, sled down the dunes at nearby White Sands National Park, or bring your four-legged friends along for a dog-friendly hike. The possibilities—and the adventures—are endless.
A Place for Space – Not only is Las Cruces the official city of Spaceport America, but it's also the place to learn about space history. Tours of Spaceport America—the world's first purpose-built commercial spaceport—are available from Las Cruces. Additionally, be sure to stop by the Museum of Nature and Science to enjoy an interactive area dedicated to Light and Space. Here, you'll get to learn about the galaxy through a variety of exhibits and activities and have the chance to look through a telescope created by local astronomer Clyde Tombaugh, the man who discovered Pluto. Take your space exploration even further by visiting the Tortugas Mountain Observatory and Tombaugh Observatory for incredible views of the night sky. Don't forget to plan a day at Kilbourne Hole, a maar volcanic crater and national landmark that served as the training site for Apollo Missions 12–17.
Bring your appetite – An acclaimed foodie destination, the dining and drinking options in Las Cruces are sure to leave a lasting impression. With a long-standing tradition as an agricultural community, Las Cruces is located in the oldest wine-producing region in North America, the largest pecan-producing county in the world, and the chile capital of the world. As a result, the flavors of Las Cruces are one-of-a-kind. From spicy New Mexican favorites made with the area's iconic red and green chile, to restaurants featuring locally-grown ingredients and restaurants with concepts inspired from around the globe, you'll find a variety of tastes to treat yourself on vacation, including local craft beer and spirits.
Whatever your sense of adventure, Las Cruces offers an affordable fun-filled stop for your next well-deserved vacation.