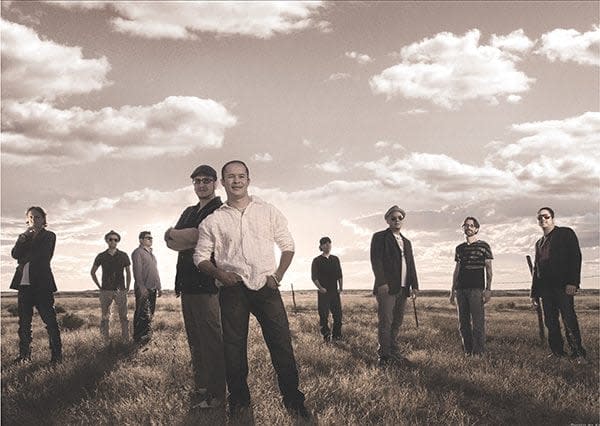 The Doña Ana Arts Council and Casa de Peregrinos join forces with hometown musical favorites Nosotros to present a benefit concert and food drive called "Feed the Body and Soul." Organized to address a very real need in our community, the event will kick off with a food drive at the downtown Farmers & Crafts Market of Las Cruces on Saturday, June 13 and culminate in a concert at the Rio Grande Theatre on Saturday, June 20 with Nosotros, the local group that has gone on to become one of the hottest Latin acts in the Southwest.
Award-winning ensemble, Nosotros, began as a Las Cruces guitar trio in 1994, but has since added members, relocated to Albuquerque and racked up the awards, cementing their reputation as a Latin music powerhouse. Having just celebrated their 20th anniversary as a musical act, Nosotros seamlessly combines Latin rhythms with the elements of Flamenco, Jazz, Salsa and Rock to create an unmistakably original sound.
"We stand behind Casa de Peregrinos in their efforts to feed the less fortunate in Las Cruces and Doña Ana County," said Nosotros founder Randy Sanchez. "It's our honor and privilege to perform at this year's event and we hope to see many donors from the community come out and celebrate with us. We believe, as a group, that every one deserves access to food and it is a necessity and right to feed our people. We also believe that everyone deserves access to art and art education. We would like to thank the Doña Ana Arts Council for their continuing efforts to helping make the arts essential to the City of Las Cruces and Doña Ana County."
A refrigerated truck from Casa de Peregrinos will be set up near the Rio Grande Theatre from 9 a.m. to noon Saturday, June 13, during the Farmers & Crafts Market of Las Cruces. Bring your donations – fruits, vegetables or other perishable items – or buy them at the market and deliver them to the truck, then purchase your tickets for the concert, as well as Nosotros CDs and t-shirts.
To further feed both the body and soul, Project MainStreet will organize a food truck roundup and has invited High Desert Brewery to set up outside the Rio Grande Theatre from 6 to 10 p.m. on the night of the concert, Saturday, June 20.
All net proceeds from the concert will go to the Casa de Peregrinos emergency food bank and to the Doña Ana Arts Council's arts education programs.  The Rio Grande Theatre is located at 211 N. Main Street, in Las Cruces. Doors open at 6:30 p.m. and the performance begins at 7 p.m. Reserved seats for the benefit concert are $26 and may be purchased via the website at www.RioGrandeTheatre.com, or upstairs at the Rio Grande Theatre box office, Monday through Friday, 9 a.m. to 5 p.m. For more information visit the website or call (575) 523-6403.