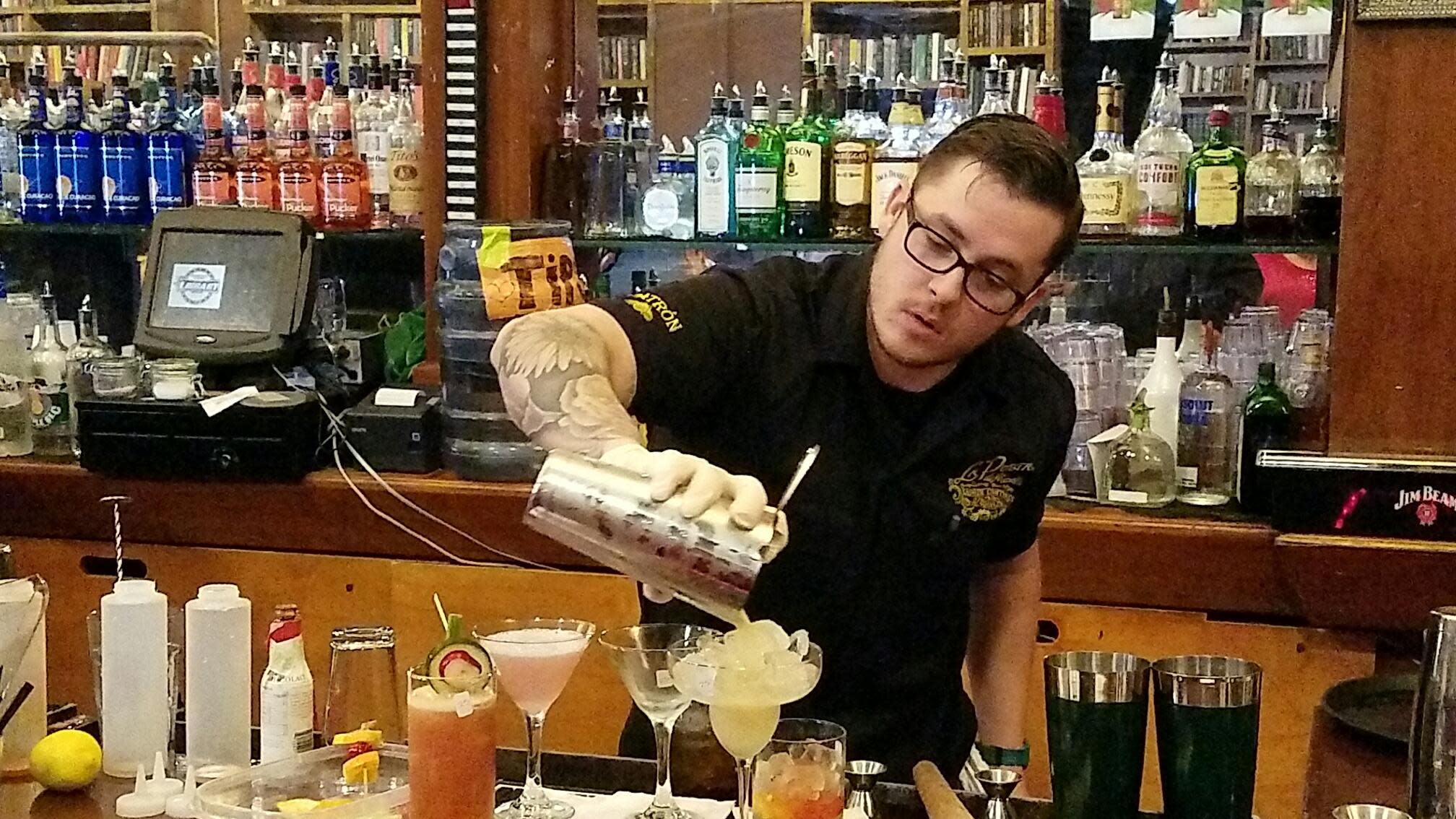 Chance Miller, a longtime bartender at La Posta de Mesilla in Mesilla, won top honors at New Mexico's inaugural, "New Mexico Tournament of Bartenders" competition.  The competition, sponsored by Beam Suntory, Southern Wine and Spirits, in association with ABQ Live included, over 30 bartenders from throughout New Mexico. The event was held at the Library Bar and Grill in downtown Albuquerque this past April 30.
The competition consisted of five rounds judged on both creativity, technical skills and bar knowledge.  Bartenders were required to use Beam Suntory products such as Hornitos Black Barrel Tequila, Effren Vodka, and Maker's Mark as well as a host of other products.  They were also encouraged to bring their own equipment and ingredients to demonstrate their uniqueness and to represent the bars they work for.
Round one titled "the Busy Bar Round", required competitors to make five classic cocktails judged on speed, accuracy, presentation, taste, and overall presentation. Round two required the bartenders to make their best Hornitos Black Barrel cocktail with a maximum of six ingredients, all with the added pressure of making four in less than six minutes.  The third round required bartenders to use Effren Black Cherry Vodka in their own creation of any classic cocktail. Round four allowed the bartenders to use any liquors and/or liqueurs in the Beam Suntory line to create their own signature drink.  The final round, called the Mystery Round, featured a selection by the judges, and required the make a cocktail using limited ingredients in just three minutes.
Chance was selected overall champion after five exhausting hours of making the best cocktails in the shortest time.  Some of his drinks and cocktails included La Posta's Bloody Mary, Peachy Rita, Star Basil Mojito, and Dragon Apple Collision.  His cocktail in the final "Mystery Round" was his version of a "Bloody Scotch" consisting of Laphroaig Select Scotch, muddled blood orange, ginger puree, and a rosemary ice ball.
"What an honor to be named the best bartender in New Mexico particularly given the level and quality of the competition", said Chance.  "I also want to give a big thanks to Daniel Gonzales, with Southern Wine and Spirits as well as all my friends, family and colleagues back at La Posta for their encouragement and support."
If you would like your next drink or cocktail prepared for you by the best bartender in the state of New Mexico, visit La Posta's website at www.laposta-de-mesilla.com to view Chance's bartending schedule.