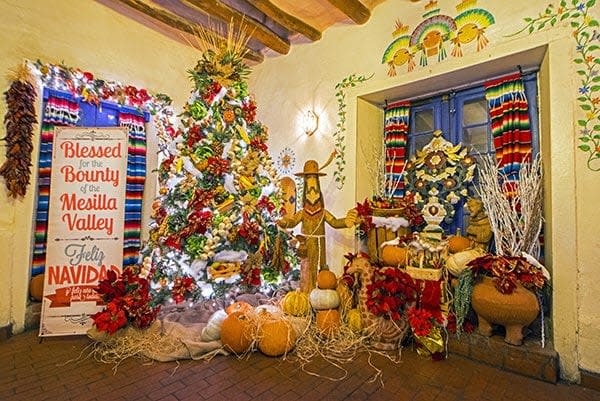 When Jerean Camunez Hutchinson and her husband Tom acquired the legendary La Posta de Mesilla in 1996 – a new tradition of celebrating Christmas and the holidays was established in the Southwest, shining new light on the phrase "deck the halls!"  Jerean's Hispanic roots are the core for her passion and love for all things Mexican and a decorating style of "mas y mas" (e.g., more and more) that charms all.
For over twenty years, a creative band of designing elves spearheaded by Jerean and local artist, Beverly Chavez Floyd -- has been delighting the young at heart with a magical creativity that every year distinctly transforms an 1840's historic building into a festive collection of 15 adobe dining rooms, a patio and two cantinas, each uniquely adorned with authentic Mexican décor and sparkling lights.  Over 50 Christmas trees and wreaths of varying size & whimsical hand-crafted Mexican artwork, flowers, ornaments, "y mas" – artfully enhance each rooms' vintage ambiance!  This year features a one-of-a-kind sombrero Christmas tree designed by local event planner Louis Samaniego & crew. A life size Mexican folk-art Nativity created and painted by local artists Kathy Groves and Beverly Floyd is traditionally displayed throughout the La Posta compound.
Or perhaps one prefers the traditional life-size Roman Fontanini Nativity in the lobby surrounded by vintage hand-painted Mexican angels! The unique beauty of La Posta de Mesilla with its' amazing flair during the Christmas season is a gift to all who wander and dine during the holidays!  The public is invited to celebrate Christmas and the holidays in true Southwest La Posta style.  Decorations will be on display through the traditional Epiphany – Feast of the Three Kings holiday, January 6, 2016.