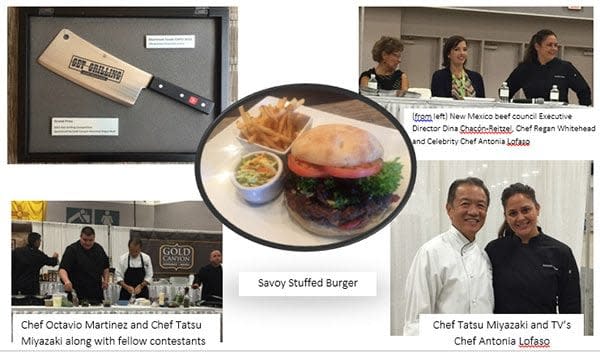 Savoy de Mesilla's Owner Chef, Tatsu Miyazaki and Sous Chef Octavio Martinez, took first place in the Shamrock Foods 2015 Get Grilling Burger Battle at Shamrocks Food Expo held at the Albuquerque Convention Center last month.
Over 100 recipes from around New Mexico were entered into the competition but only three were chosen as finalists to participate in a live cook off during the Food Expo. The judging panel consisted of New Mexico beef council Executive Director Dina Chacón-Reitzel, Chef Regan Whitehead (2014 Get Grilling Competition Winner), and Celebrity Chef Antonia Lofaso.
Each team had 30 minutes to cook and prepare their burgers using ingredients provided by Shamrock Foods. Chef Tatsu and Chef Octavio worked together to create a stuffed burger consisting of sun dried tomatoes, fresh basil, whole grain mustard, garlic, paprika, special seasoning that is hand mixed into the beef patty then stuffed with fresh mozzarella cheese. The burger was topped with a basil pesto mayo, balsamic reduction and placed on a Roasted Garlic Focaccia Bun garnished with Mesclun greens, roma tomatoes and sliced red onion.
Burgers were awarded points based on taste, appearance, presentation, best use of "specialty burger" theme, and overall creativity.
Big D's Downtown Dive from Roswell, NM received second place with their Big Kahuna Burger, and Fat Sats Bar and Grill from Belen, NM was third with their Inside Out Patty Melt.
For more information, visit savoydemesilla.com