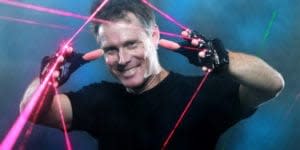 The Doña Ana Arts Council proudly continues the 2015/2016 Variety Performance Series with the world-renowned entertainer Performance Magazine labeled "nothing less than brilliant," Mark Nizer. Bringing his unique brand of original comedy, world-class juggling, movement, music and 3-D technology to Las Cruces, Nizer touts the philosophy "the impossible is possible, the improbable is probable." Mark Nizer will transform the Rio Grande Theatre stage into a wonderland of probability, Friday, January 29, 2016.
Mark Nizer is one of the greatest entertainment comedians and jugglers performing today. His wild exploits have landed him on MTV, HBO's Just For Laughs, Arsenio Hall, Bob Hope and Other Young Comedians, Comic Strip Live and LA Law. Whether juggling laser beams at 1000 rpms, or five ping pong balls being thrown 20 feet in the air using only his mouth; or even juggling a burning propane tank, a running electric carving knife and a 16-pound bowling ball, you'll discover for yourself that Mark Nizer is truly "the juggler your mother warned you about."
The Rio Grande Theatre is located at 211 N. Main Street, in Las Cruces. Doors open at 7 p.m. and the performance begins at 7:30 p.m. Tickets are $37.50 for Main Floor reserved seats; $27 for Balcony reserved seats (all fees included—including 3-D glasses!) and may be purchased on-line at www.RioGrandeTheatre.com, at the Rio Grande Theatre box office, on the 2nd floor of the theatre, Monday through Friday, 9 a.m. to 5 p.m. or at the door, day of show.
For more information visit www.RioGrandeTheatre.com, or call (575) 523-6403.