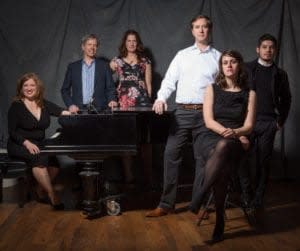 The Doña Ana Arts Council proudly partners with the Santa Fe Opera to present a new one-act show "UnShakeable" at 10 a.m. Saturday, April 30th at the historic Rio Grande Theatre in Downtown Las Cruces.   The performance is free and open to the public; general admission, no tickets required.  Suitable for ages 10 and up.
Each year, the Santa Fe Opera takes its Spring Show on the road, touring cities in Colorado and New Mexico offering free public events. "UnShakeable," written in commemoration of the 400th anniversary of William Shakespeare's death, was composed by Joe Illick with libretto by Andrea Fellows Walters.  The one-act opera is set in an abandoned theater in New Mexico 25 years from now – three years after a viral pandemic hits the population. 
As a result, everyone has some degree of memory loss, and people are less connected to one another. Wyatt and Meridian, Shakespearean actors and former sweethearts, have not seen each other since the start of the pandemic. "UnShakeable" follows the reunited flames on a star-crossed journey guided by their wishing stars. 
Take a break from your Saturday morning stroll through the Farmers' and Crafts Market and join the "Shakespeare 400" celebration --- along with performers, theatres, writers and Bard-lovers around the world --- by attending this unique new work from the Santa Fe Opera.  
The Rio Grande Theatre is located at 211 N. Main Street, in Las Cruces. The performance begins at 10 a.m., and will last approximately one hour. Admission is FREE and open to the public. General admission; no tickets required.  
For more information visit www.RioGrandeTheatre.com or www.SantaFeOpera.org or call (575) 523-6403.