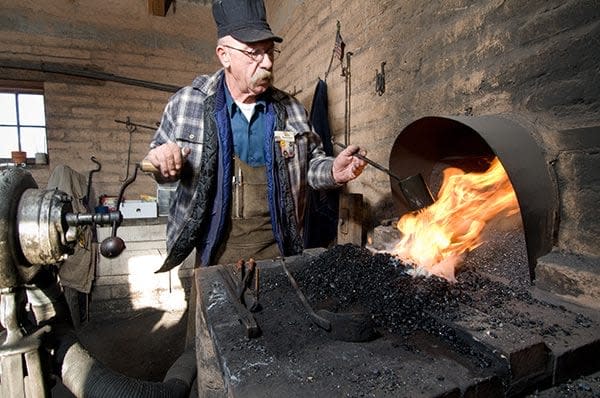 Summer Day Camps for Kids
The Museum's Summer Camps for Kids begin in June and offer a wide variety of fun, hands-on learning opportunities for children 5 and older. Our June camps feature "Exploring Nature" June 2-5 for ages 8 to 11; "Fun with Wool" June 9-11 for ages 8 to 12; "Ropin' and Wranglin'" June 16-18 for ages 5 to 8; and "From Farm to Table" June 23-25 for ages 5 to 7. Pre-registration is required as camps fill up quickly. Prices range from $25 to $40. More camps are scheduled through July. To see the full list, go to www.nmfarmandranchmuseum.org and click on "News" or drop by the Museum to pick up a brochure.
Beginners Blacksmith Workshop
Wednesdays (June 3, 10, 17)
Thursdays (June 4, 11, 18)
Learn the basic techniques of traditional iron and steel smithing in the Museum's blacksmith shop. This nine-hour course, taught over three consecutive weeks by one of the Museum's experienced blacksmiths, will provide you with the essential skills required to forge tools.
Class attendees will fashion and take home five useful items (valued at over $125). Class size is limited to three at a time. The cost is $150 plus a $15 materials fee. A $50 non-refundable reservation fee is required to hold a space in a class.
Culture Series: Ronald Kil: Spanning the Range
June 11, 7 p.m.
Santa Fe artist Ronald Kil will talk about the new exhibit at the Museum that features his paintings, and will also share his experiences as a ranch cowboy. Kil's show includes 30 works that are historical in nature, but with wide-reaching boundaries – from the paleo Indian hunters of 7,000 B.C. to the cowpunchers of the 1920s. He works in oil, watercolor and ink, and was chosen to illustrate the official State Centennial Calendar in 2012. Donations will be accepted for admission.
For more information, please call (575) 522-4100. All classes, workshops and events co-sponsored by the Friends of the New Mexico Farm & Ranch Heritage Museum www.nmfarmandranchmuseum.org. 4100 Dripping Springs Road, Las Cruces, NM 88011
The New Mexico Farm & Ranch Heritage Museum is a division of the New Mexico Department of Cultural Affairs