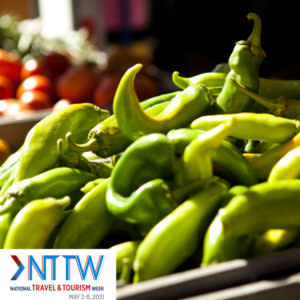 National Travel and Tourism Week (NTTW) runs May 2-8, and Visit Las Cruces is celebrating the industry's role in restoring the economy, rebuilding our workforce, and reconnecting America, with a series of informational pop-up booths, social media posts and a promotional video featuring local travel and tourism professionals.
Tourism plays a large role in the local economy. In 2019, Las Cruces had more than 750,000 visitors who spent approximately $70 million in tourism-related expenses, according to data from the City of Las Cruces and the New Mexico Tourism Department. The data also found that, on average, each visitor spent a total of $195 per day on tourism-related expenses such as lodging, food and beverage, retail, recreation and transportation.
According to data from the Las Cruces Economic Development Department, there are nearly 6,000 tourism-related jobs in Las Cruces, which make up nearly 12 percent of the local workforce. In 2020, Dona Ana County saw a loss of $685,000 in Lodgers' Taxes, a year-over-year decrease of 40 percent, and a 15.5 percent year-over-year decrease in Tourism sector Gross Receipts Taxes, according to data from the New Mexico Tourism Department.
Tourism will be a major driver in the economic recovery, not only in Las Cruces—but also in New Mexico as a whole. According to a 2019 study from Tourism Economics, New Mexico had more than 37.5 million visitors who spent approximately $7.1 billion in New Mexico in 2018. The study also found that visitor spending sustains 8.5 percent of all jobs in New Mexico, and that tourism generates $900 in state and local taxes for every household in New Mexico.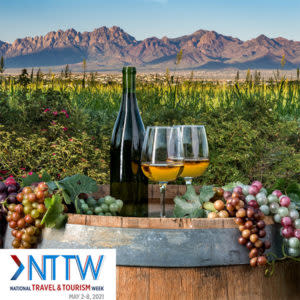 As part of the nationwide celebration of the tourism industry, Visit Las Cruces will host informational pop-up booths throughout the week. The pop-up booths are scheduled to take place at: Dripping Springs Natural Area, Monday, May 3 from 7 to 9 a.m.; Courtyard by Marriott Las Cruces at NMSU, Wednesday, May 5 from 8:30 to 10:30 a.m.; New Mexico Farm and Ranch Heritage Museum, Thursday, May 6 from 10 a.m. to Noon; Rio Grande Winery, Friday, May 7 from 5 to 7 p.m.; and in front of the Rio Grande Theatre, Saturday, May 8 from 9 to 11 a.m.
Visit Las Cruces will also post information about the impact of the travel and tourism industry and fun travel facts throughout the week through the Visit Las Cruces Facebook (facebook.com/lascrucescvb) and Instagram (@VisitLasCruces) pages. In addition, Visit Las Cruces will be premiering a video highlighting the impact of the industry with video clips featuring local industry professionals.
In addition to the celebration, Visit Las Cruces is excited to safely welcome back visitors in 2021. For up-to-date information on the latest statewide public health order and restrictions, visit https://www.lascrucescvb.org/covid-19-resources/.
Celebrated annually the first full week in May, NTTW was created by Congress in 1983 to underscore the economic power of travel in the U.S. and celebrate the contributions of industry partners and professionals. This year's theme, the Power of Travel, highlights the critical role that travel will play in driving economic recovery efforts and celebrates the contributions of the U.S. travel industry.
For more information about the week, visit https://www.ustravel.org/nttw.