Within White Sands National Monument, visitors will find countless opportunities for discovery, fun, and the creation of lifelong memories. Take a trip into the dunes and explore a portion of 275 square-miles of pure white gypsum dunes. Whether you delight in the challenge of a strenuous hike to spectacular vistas, sand-surfing down a dune, or an inspirational moment in an untamable land, your unimaginable adventure awaits you! Begin your journey at the visitor center where you can learn all about the monument, grab your adventure pack or begin your journey as a Junior Ranger.[minti_spacer][minti_newdivider line_color="#dd3333"][minti_spacer][minti_headline color="#ef0c04" align="align-left"]Kids Adventure Packs[/minti_headline]Would you like to learn about the animals of White Sands National Monument while exploring the dunes? Our adventure packs are the perfect way to do it and they are FREE to use!
Just have your parents stop-by the visitor center and ask if a pack is available to loan. A ranger will ask them to fill out the necessary form for borrowing the packs and be on your way to an adventure!
Each Junior Ranger Adventure Pack contains a backpack that has a pair of binoculars, animal tracks fold-out guide, compass, flashlight, adventure tool, Desert Survival Guide, New Mexico Birds fold-out guide, Desert Life book, Easy Field Guide –Birds, Easy Field Guide –Insects, Easy Field Guide –Mammals, and an Easy Field Guide –Snakes.
Once you have finished exploring the dunes for the day, just bring the adventure pack and its contents back to the visitor center where a ranger will check it back in with your parents.[vc_column_text>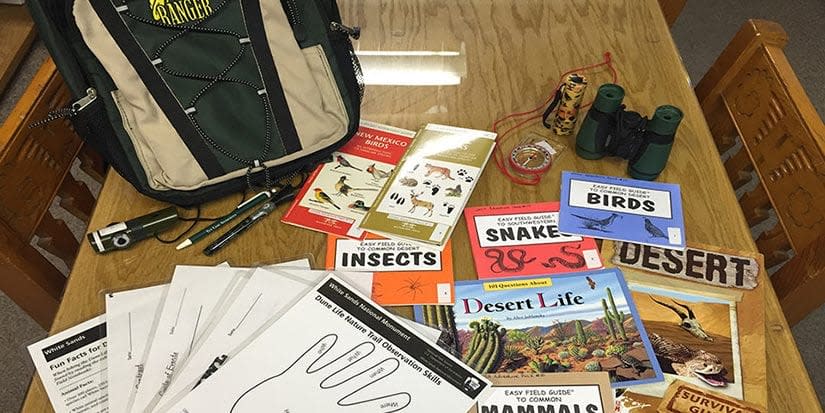 [minti_spacer][minti_newdivider line_color="#dd3333"][minti_spacer][minti_headline color="#ef0c04" align="align-left"]Become a Junior Ranger[/minti_headline]Become a Junior Dunes Ranger when you visit White Sands National Monument!
The Junior Dunes Ranger Program is a program for kids of all ages who visit the park. The booklet is a way to learn more about White Sands National Monument and the National Park Service while having fun at the same time.
There are four different age/developmental activity-levels: preschool (ages five and under), ages 6–8, ages 9–13, and age 14 and over. Riley, our Junior Ranger mascot, leads you through the activities. There are word puzzles, desert safety activities, visitor center scavenger hunts, a wildlife checklist, nature manners, and many other activities.
You can pick up your free Junior Ranger activity booklet at the visitor center or print the booklets before you visit. The preschool book (4,162 KB) is for anyone ages five and under. The Junior Dunes Ranger activity booklet (7,202 KB) is for ages six and up. There is no age limit. Anyone can become a Junior Dunes Ranger! Those who are 6 and up can earn a Junior Dunes Ranger patch or badge, anyone who completes the preschool book will earn a sticker. All ages will earn 15% off of any one item in the Western National Park Association park store and White Sands Trading Post gift shop.[vc_column_text>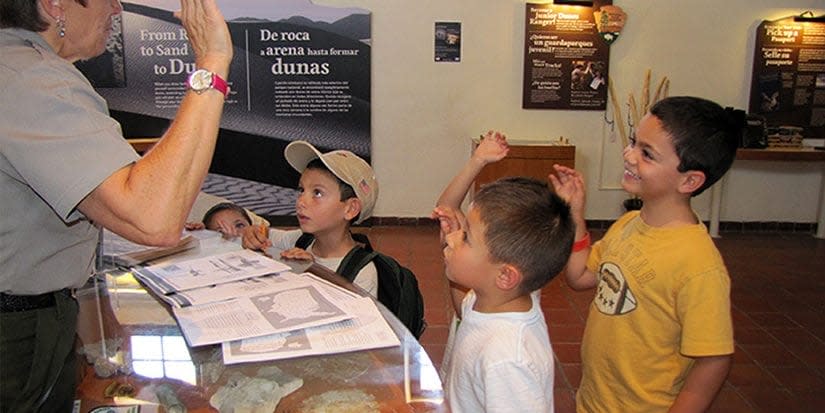 [minti_spacer][minti_newdivider line_color="#dd3333"][minti_spacer]