The end of the harvest season is always an excellent time to visit Las Cruces. The weather is phenomenal, and there is a crispness in the air that is hinting at the change of seasons to come. New Mexico is the oldest wine producing region in the United States, and our wineries are one of our greatest treasures. Take advantage of the opportunity to visit our local Wineries, and celebrate the harvest this weekend.

La Vina Harvest Wine Festival -- Bid Adieu to Summer with Wine and Song
The La Vina Harvest Wine Festival, happening this weekend, is a great opportunity to taste New Mexico's longest produced, award-winning, estate bottled wines. La Vina Winery, New Mexico's oldest Winery invites you to join them October 13 and October 14 for wine tasting, great entertainment and more. Over 20 wines will be available for tasting and purchase, and a full lineup of 6 bands will make for an incredible fall experience. Adult admission costs $20 and includes a choice of 9 wines or a glass of wine.
For a look at another incredible local winery and their products, come along with local writer Rob McCorkle as he explores "A Taste of Italy" featuring some great local Italian wines paired with authentic Italian dishes made from the freshest ingredients at Luna Rossa Winery and Pizzeria. Dine on Italian dishes made from scratch, accompanied by an Italian varietal, and indulge your Italian culinary fantasies right here in New Mexico.
Enjoy a Taste of Italy at Luna Rossa By Rob McCorkle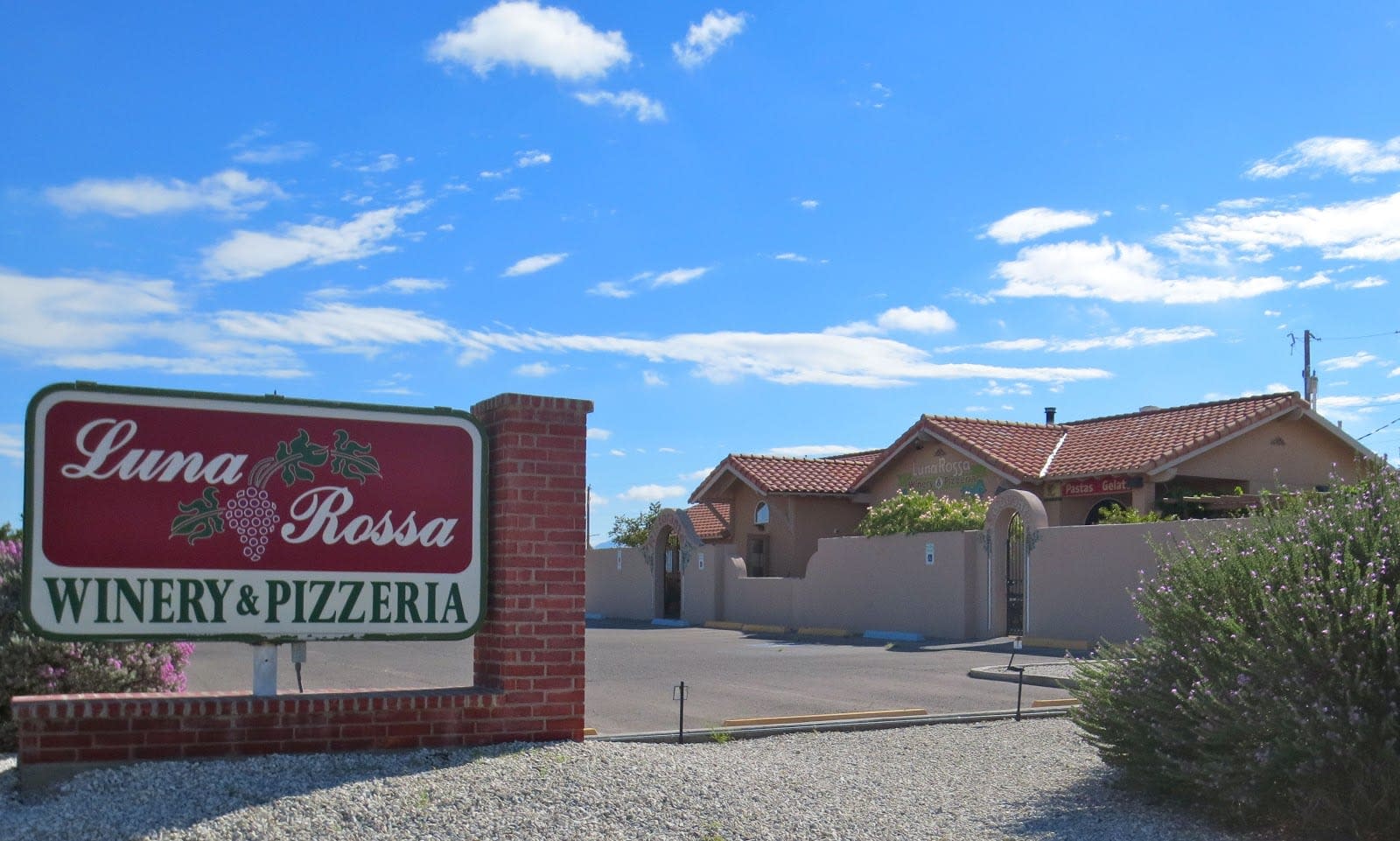 Italian food and wine have earned international acclaim and rightfully so. If you can swing it, hop on a plane and visit the beautiful, welcoming country to indulge your culinary fantasies. If you can't, do yourself a favor and head to Luna Rossa Winery & Pizzeria, housed in a former gas station on the outskirts of Old Mesilla.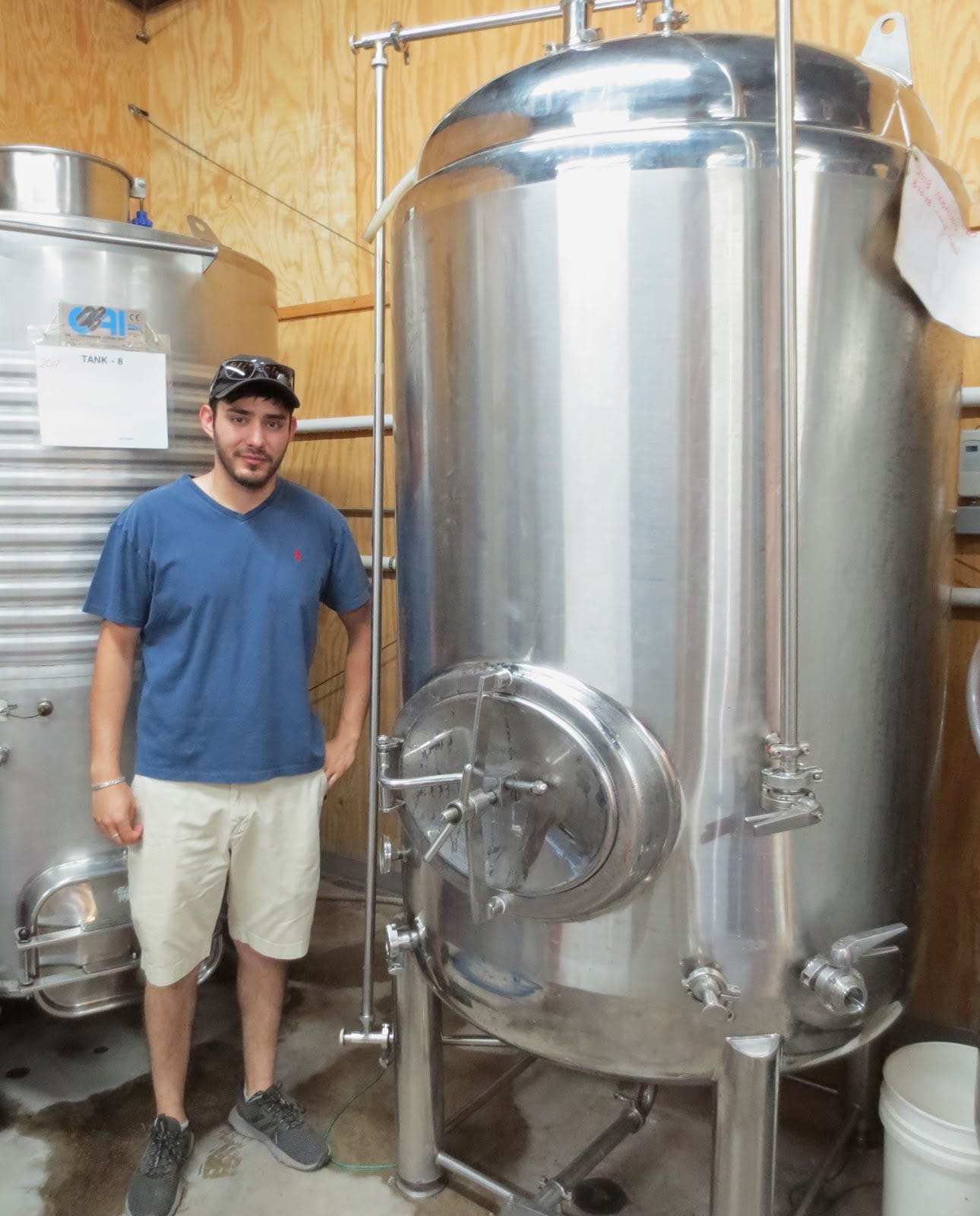 Dine on dozens of authentic Italian dishes made from scratch from fresh ingredients sourced in Italy and made from recipes adapted by Sylvia D'Andrea, accompanied by a glass of one of the more than two dozen Italian varietals bottled by husband Paolo D'Andrea from grapes grown at the Luna Rossa Vineyards in nearby Deming.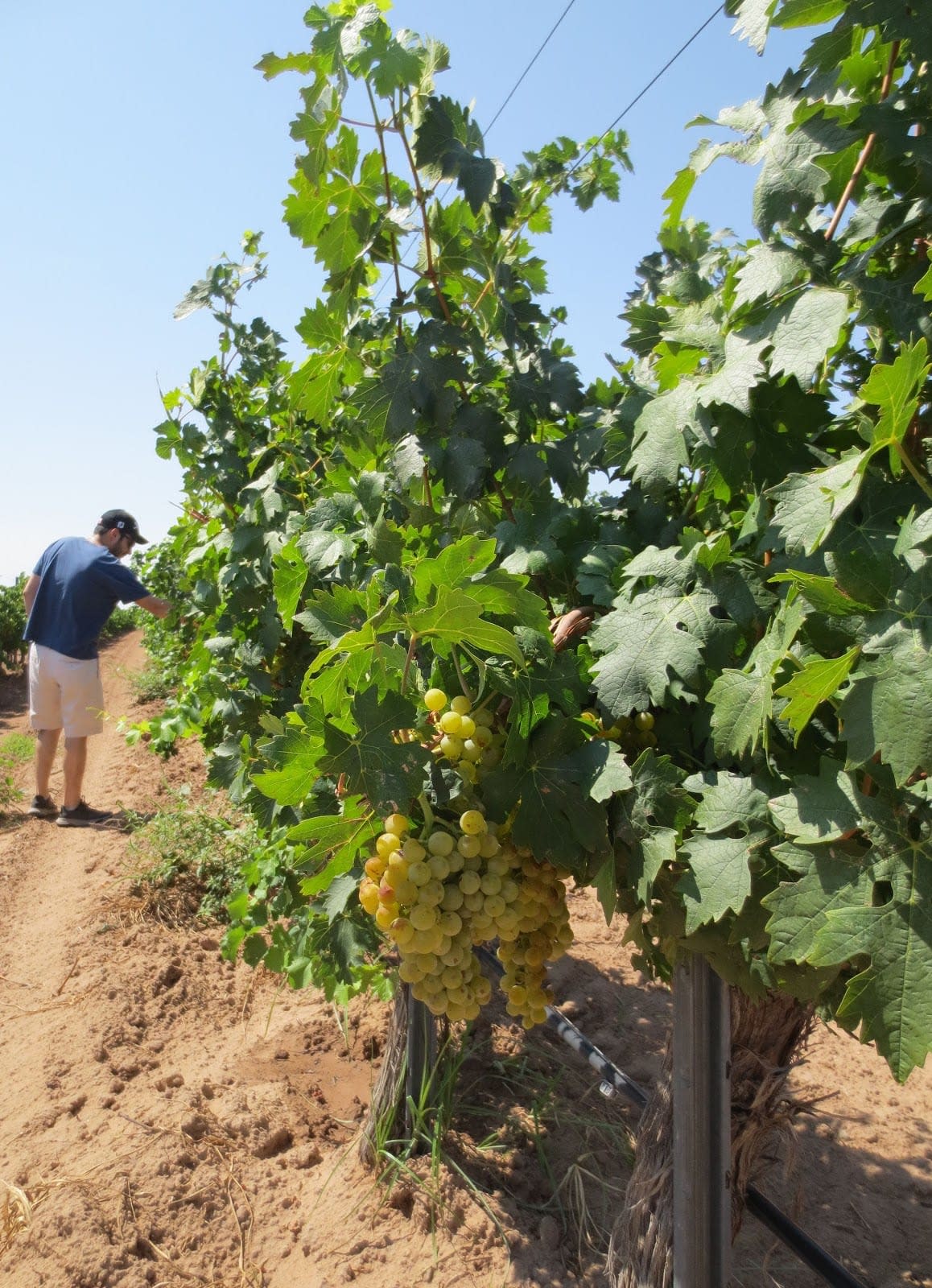 Paolo boasts a strong grape-growing and wine-making heritage. He grew up in a small village in the Friuli-Venizia-Giulia region of northeastern Italy and learned the craft of wine making passed down through four generations. In 1986, a New Mexico company hired Paulo, who had a degree in viticulture and grapevine-grafting experience to teach Hispanic laborers proper pruning techniques. Paolo returned to Italy, but later was hired by international investors who owned New Mexico Vineyards, Inc. to manage their vineyard in Deming. He loved the area and decided to put down roots. Paolo met and married Sylvia, a Deming native, and they started their own vineyard in 1999 on 20 acres sandwiched between New Mexico Vineyards' 300 acres and Interstate 10. In 2001, they founded Luna Rossa Winery in Deming with the modest idea of their boutique winery producing 2,000 to 3,000 cases of wine a year.
Today, Luna Rossa produces 7,000 cases of wine (84,000 bottles) made exclusively from estate-grown Italian grape varietals, all individually grafted by Paolo onto hardy American rootstock and grown in the family-run vineyard just west of Deming. The wines have garnered numerous awards in prestigious events such as the San Francisco International Wine Competition. In addition, Luna Rossa sells grapes to many New Mexico wineries, as well as select wineries in Texas, Colorado and Arizona. Their nursery grows thousands of grapevines, too, for export to Mexico and Central America.
The D'Andreas' 22-year-old son, Marco, is heavily involved in the winery, lending his expertise in enology acquired at the University of Udine in Friuli. Marco is currently studying ag business at New Mexico State University. He is bullish on Deming as an excellent grape-growing location.
"I'm not saying we can make wines like some other places, but it is a good grape-growing area in the sense that its oriented to producing really good red wines," Marco says. "We also can make pretty good heavy whites like chardonnay, but it's more difficult to make really light white wines."
On a sunny summer morning, Marco took me on a quick tour of the family winery, introducing me to an uncle who was loading boxes of wine for the drive to Las Cruces to stock at the restaurant. A mechanical grape harvester had just finished picking some white wine grapes to be cleaned and placed in fermentation tanks.
Inside the temperature-controlled Barrel Room sat dozens of barrels -- medium-toast American and French oak -- used to age their reds, including three Reserve wines aged for a minimum of five years. Luna Rossa's Reserve Barbera, Anglianco and Nebbiolo retail for $50 a bottle, the priciest wine sold by Luna Rossa, whose wines generally run a reasonable $15 to $25 per bottle. They even offer a tasty, not-too-sweet port, dubbed NV Conquistador for $33.
Paulo explained his holistic approach to wine making. "We start with two sticks and graft onto them, which creates a new plant. We plant it in the vineyard and let it grow. We harvest the grapes, make the wine and sell it."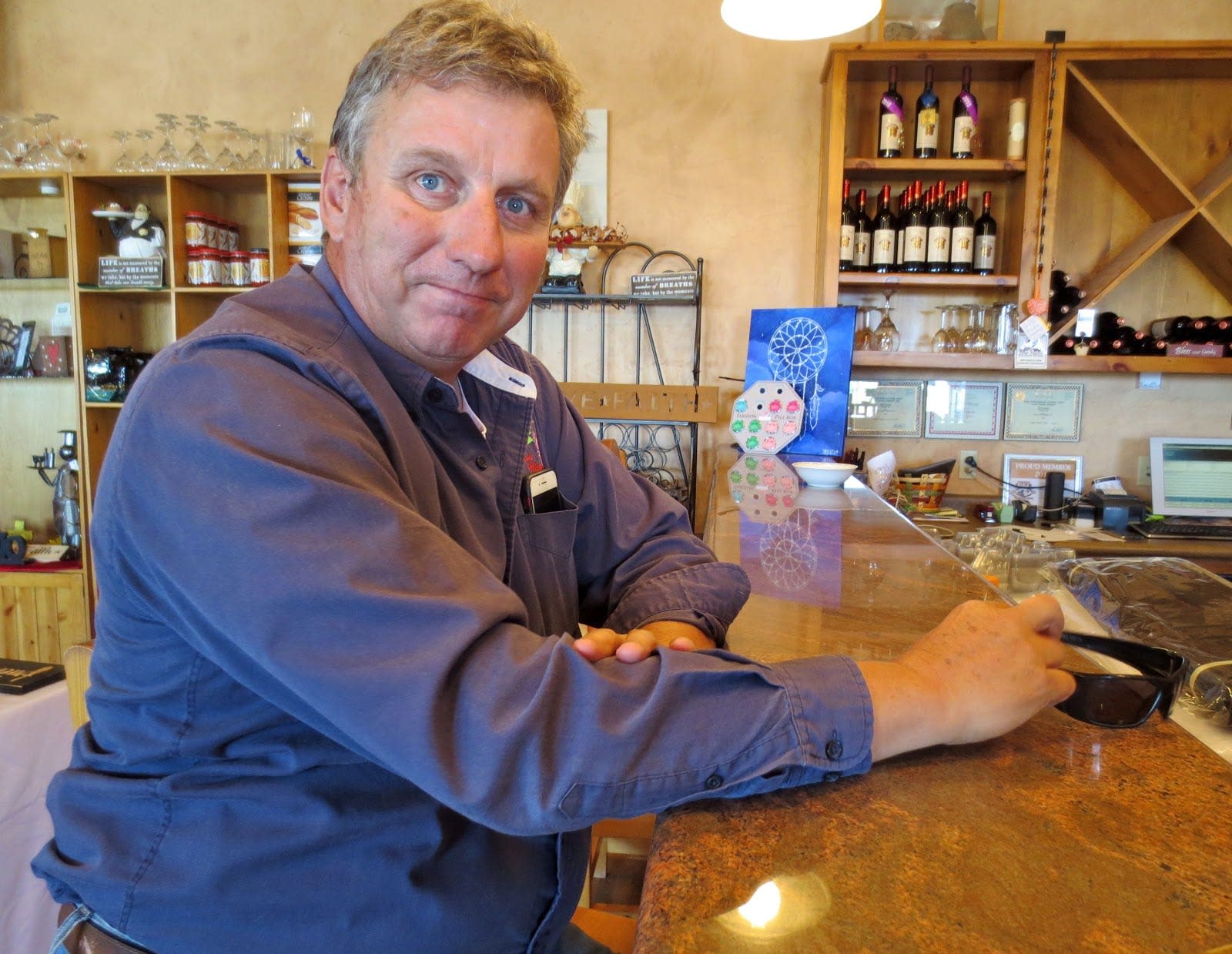 On our most recent visit to the Las Cruces pizzeria, Judy and I grabbed seats at the bar on a crowded Saturday night as indoor and courtyard tables quickly filled up. A typical Pinot Grigio fan, Judy actually preferred the stainless steel tank-fermented Chardonnay, but opted for a glass of crisp Dry Riesling. I sampled five dry reds for $5: Carmenere, Nini, Sangiovese, Shiraz and Tempranillo. I chose a glass of the Nini, a complex, palate-pleasing mix of the winery's three Reserve wines, three dry reds and one sweet red.
Paul Sanchez, the affable manager, graciously offered me a taste of the port and 2007 Reserve Barbera, both sublime. Flights are served in a metal "tree" of sorts that makes for a classy presentation. On this night, one could choose from a list of 15 reds, 9 whites and 3 Reserve reds. I noticed a sign on the wall behind the bar that attests to the owners' sense of humor. It reads: "Love the Wine You're With."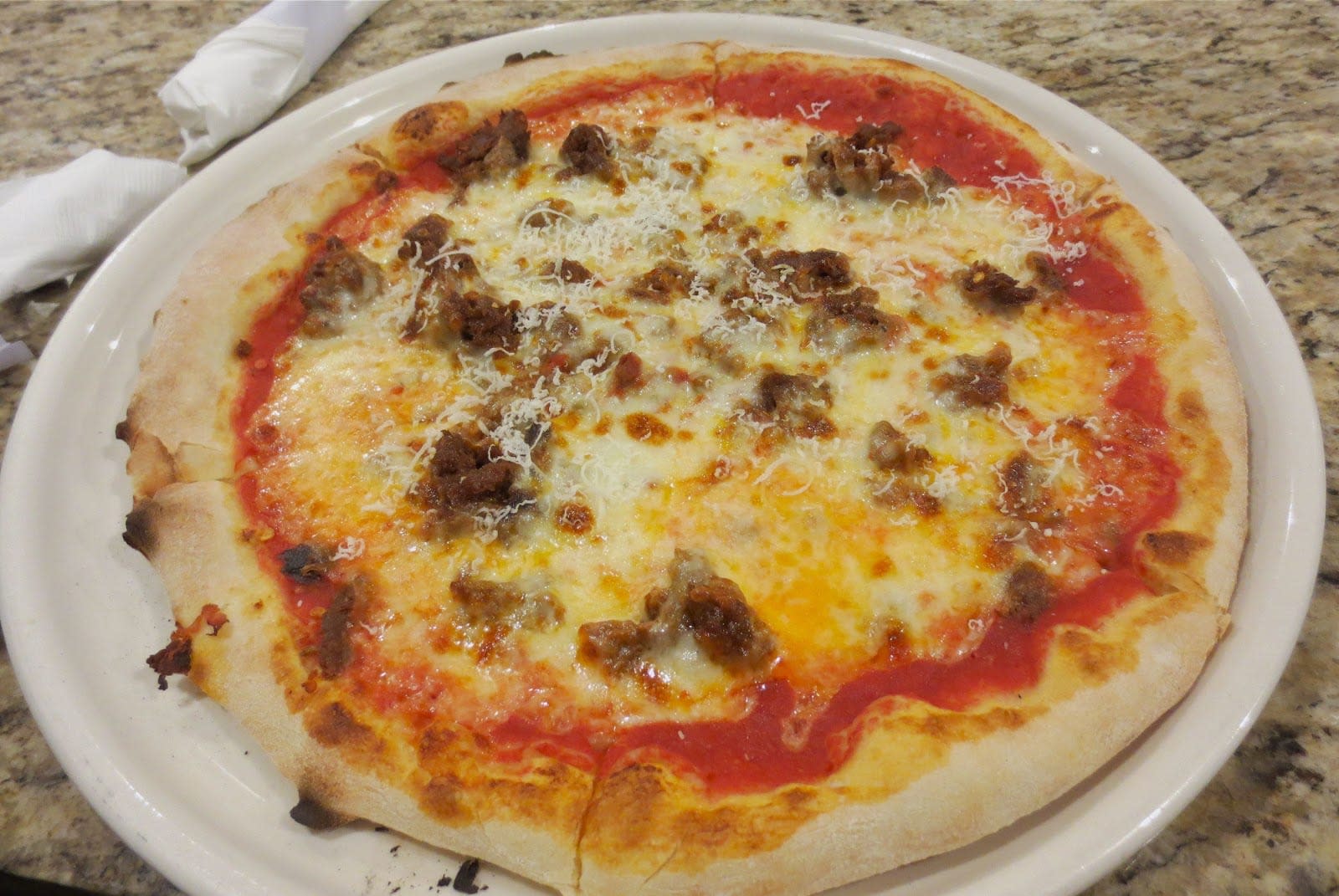 For dinner, I ordered a Salsiccia (Italian sausage, mozzarella and tomato sauce) pizza that has just the right amount of spice to complement the mild homemade mozzarella cheese and San Marzano tomato sauce. Judy chose Pasta con Gamberetti, featuring plump shrimp with sautéed onions and zucchini drizzled in Trifoglio virgin olive oil served on a bed of spaghetti, substituted for penne pasta. Mama Mia!
Luna Rossa Winery's first presence in Las Cruces consisted of a tasting room a couple of blocks from the current location that sold wine and gift items. It broke even and introduced locals and Mesilla tourists to the Italian varietals, but Sylvia wanted a bigger piece of the action and had always wanted to open a restaurant. Paolo, with his hands full working for New Mexico Wines and running the family winery, resisted. But Sylvia ultimately prevailed and negotiated the purchase of a dilapidated shell of a filling station in a prime location. The winery and pizzeria opened in September 2011 with eight workers, but today boasts 25 employees. Sylvia oversees the Las Cruces business, as well as the Tasting Room/Gift Shop in Deming that's visible from nearby I-10. Somehow the proprietress finds time to host parties, weddings and other events at her spacious hometown location.
Pizza Monday remains the most popular event at the Las Cruces location. Sylvia started it on the pizzeria's first anniversary to bolster lackluster business on the slowest day of the week when only 25 people might show up. With $5.95, one-topping pizzas, Monday now attracts gangbuster crowds. The Luna Rossa pizza with salami, prosciutto cotto, mushrooms, mozzarella and veggies galore reigns as most popular day in and day out.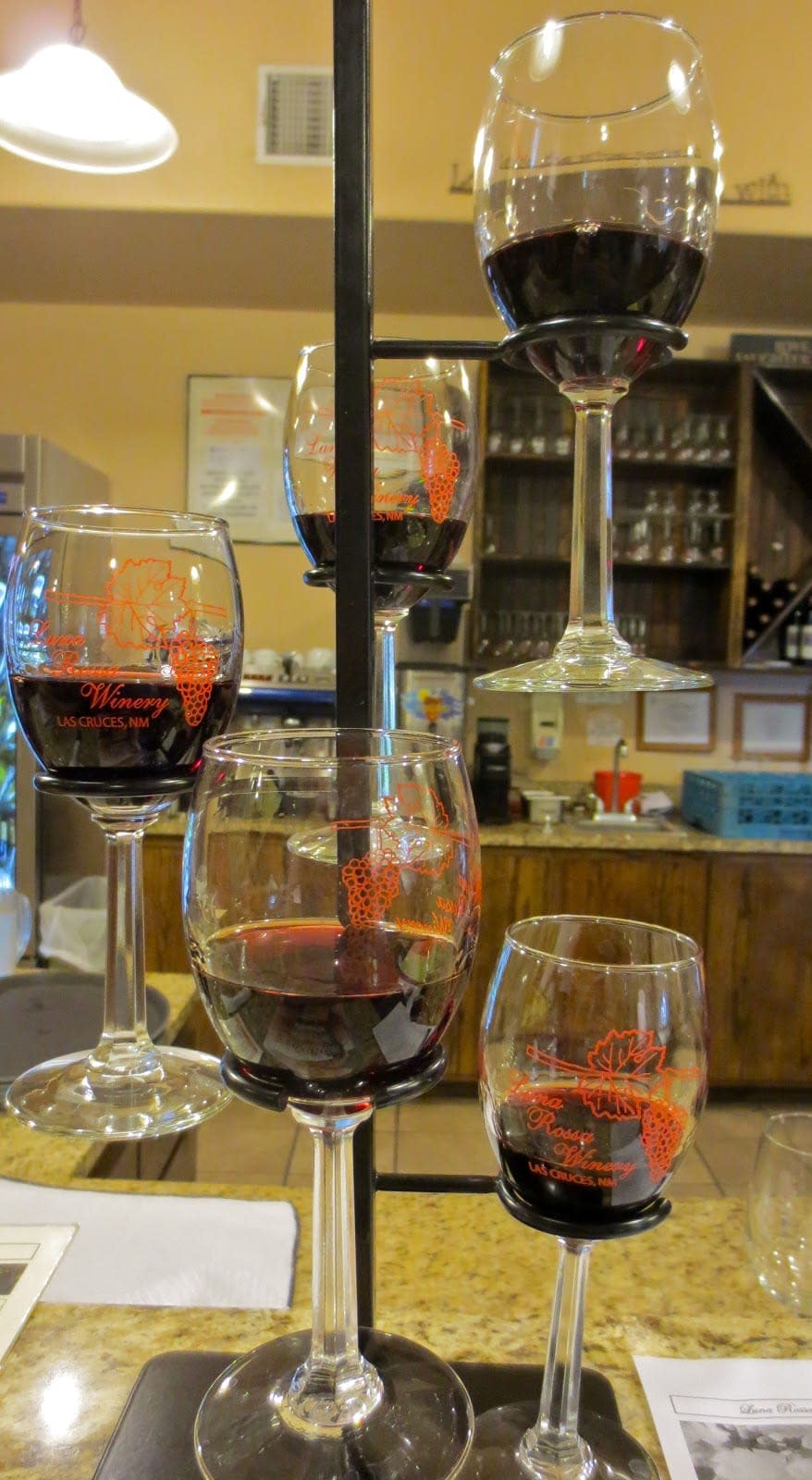 "I figured if we get one customer who wouldn't otherwise stop here, then it's worth it," Sylvia explains in her rapid-fire style of conversation. "The most I've had is 430 customers on a Monday."
Patrons stopping by for lunch or dinner will find 17 kinds of pizza, calzone, pasta dishes, soups and salads on the menu. What's for dessert? Gelato, the Italian version of ice cream. Sylvia went to a North Carolina gelato school taught by Italians to learn how to make the popular "dolce." You can choose from 22 flavors. She says Paolo initially was against selling gelato, but ultimately gave in, purchasing used Italian equipment from a failed gelateria for her birthday. Not content to rest on her laurels, the energetic owner says she wants to buy a ravioli-making machine! Paolo will likely discourage that, as well, but I'm betting homemade ravioli will be on the menu soon. Through all of the challenges of operating business in two locations and producing consistently fine wines in the unforgiving desert climate, Paolo and Sylvia remain nonplussed in pursuit of their passion.
"We focus on quality, not quantity," Sylvia says. "The idea was simple. We enjoyed making wine and wanted to make it to sell to people to enjoy. It was never about the money. We don't need to be sitting on a thousand acres of anything." Perhaps not, but it looks to me like the hard working Luna Rossa Winery owners are sitting on a gold mine under a luna rosa, or "red moon."
The Scoop
Locations: 1321 Avenida de Mesilla, Las Cruces Hours: 11 a.m. to 9 p.m., Monday-Thursday; 11 to 10 p.m., Friday & Saturday; 11 to 8 p.m. Sunday. Info: 575-526-2484; www.lunarossawinery.com 3710 West Pine Street (Southwest I-10 Frontage Road), Deming Tasting Room Hours: 10 a.m. to 6 p.m. Monday-Saturday; Noon to 6 p.m., Sunday.

Fall Fun and Fine Wines
Remember to stop in at La Vina Winery for its Harvest Wine Festival this Saturday and Sunday from noon to 7:00 PM for a fantastic fall afternoon of entertainment and wine tasting.
More Information Date and Time: October 13 and 14 - 12:00pm - 7:00 pm Location: La Vina Winery 4201 Highway 28 La Union, NM 88021
Phone: 575-882-7632 Cost: Adults: $20, includes a souvenir glass and a choice of 9 wines or a glass of wine. Ages 12-20: $10. Under 12: Free admission For more information - click here