About Las Cruces, NM
Our Location
Las Cruces is the second largest city in New Mexico and is located in the southern part of the state at the crossroads of I-10 and I-25. Less than an hour from El Paso, Las Cruces is the mid-point between San Diego, CA and Dallas, TX. Home of the Aggies, New Mexico State University spans across 900 acres and serves over 20,000 students from all over the United States and the world.
Boasting an average of 320 days of sunshine per year and situated at an elevation of 3,900 feet above sea level, Las Cruces is an ideal year-round destination, home to a rich culture and history, vibrant art and music scene, ideal weather for an abundance of outdoor activities, and authentic cuisine made from recipes passed down through the generations. 
Click the map below to download!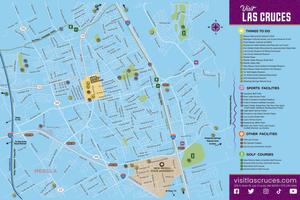 Our History
Land Acknowledgement
Las Cruces, New Mexico, is in the Chihuahuan Desert, in the heart of the fertile Mesilla Valley, between the majestic Organ Mountains and the illustrious Rio Grande – the lands and waters that sustain us.
These are the ancestral and present-day homelands of the Manso people and the current Piro-Manso-Tiwa tribe, as well as the shared traditional lands of the Suma, Jumano, Jocome, Mescalero Apache, Warm Springs Apache, Chiricahua Apache, Jano, Conchos, Manso, Piro, Tapaxkolmeh, Ysleta del Sur Pueblo, Tortugas, and other Indigenous People through time. We take pride in knowing that our predecessors walked and flourished here 23,000 years ago.
We acknowledge and respect sovereign Indian Nations, our Indigenous forebearers and the glorious cultures that are shared with us.
We encourage partnerships that promote, protect and preserve this land so that it can be passed along to future generations.
Deep Roots = Rich History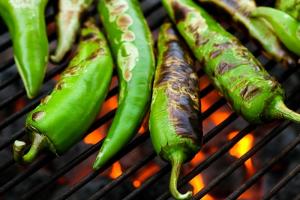 Most newcomers to southern New Mexico have three priorities on their bucket list: eat delicious green or red chile, explore the Organ Mountains, and visit White Sands National Park.
Delicious chile is a cultural staple in the Mesilla Valley and a hike in the Organ Mountains is breath-taking, stimulating, and inspirational. 
And, it has recently become clear, White Sands has been a destination for many years – many thousands of years.
In 2021 archaeologists announced the discovery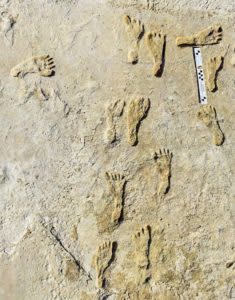 of fossilized footprints in gypsum soil at White Sands National Park, less than 60 minutes east of Las Cruces. (Photo courtesy of NPS)
Previously, archaeologists believed humans arrived in North America between 13,500 and 16,000 years ago. The White Sands discovery proves that humans have been living here – in our backyard – for roughly 23,000 years making it the oldest-known existence of humans in North America.
Most Native authors and historians support the oral narratives, traditions and cultures that suggest indigenous groups have always been present in the Southwest and it's safe to say that they have lived and prospered on these lands for tens of thousands of years.
From 13,500 B.C. to 11,000 B.C., the Clovis Culture developed and thrived in Eastern New Mexico. As time passed cultures transformed and took on new identities and new ways of life distinct from their predecessors, and these ancestral cultural groups from long ago would eventually become the contemporary Indigenous communities of New Mexico.
Proven, scientific evidence shows that descendants of our present-day Indigenous groups have inhabited what is now New Mexico for thousands of years, with some of the earliest permanent settlements, known as pueblos, dating back about 1,500 years.
The people of the Mogollón culture lived in what is now known as the Gila Wilderness, northwest of Las Cruces, all the way east to the Tularosa Basin from the 1280's through the early 1300's. The first people of Las Cruces were descendants of the Mogollón people, and Pueblo sites from this time period can be found all around the Mesilla Valley and greater Paso del Norte area. This includes sites like Hueco in El Paso, and Embree in Doña Ana. These Mogollon people are the forebears of the Manso people, whose descendants still live in Las Cruces and make up the current Piro-Manso-Tiwa tribe, as well as descendants being found within the Jocome, Jano, Conchos, Rarámuri, and Zuni people, among others. (Photo courtesy of New Mexico Farm & Ranch Heritage Musuem)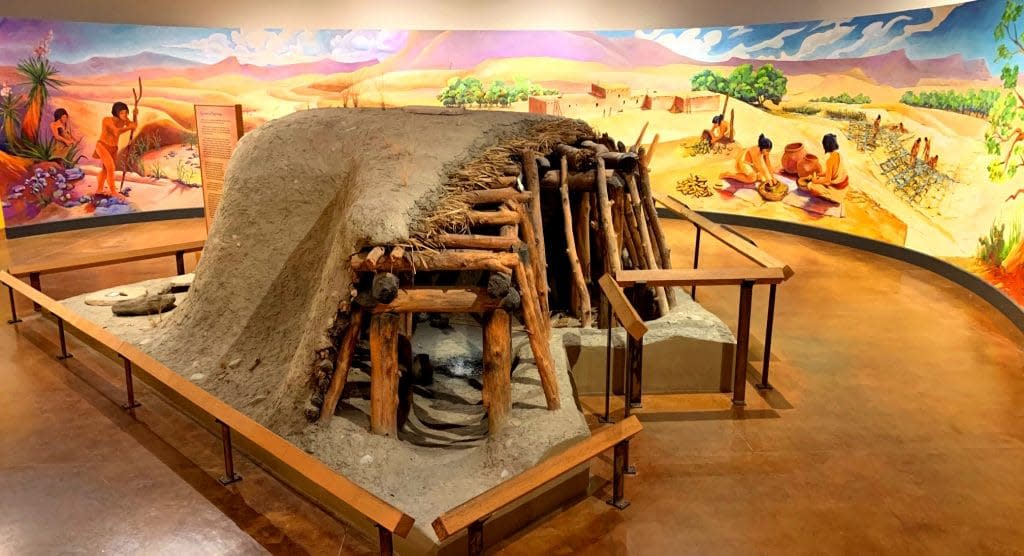 In the late 1500's, when Spanish conquistador Juan de Oñate and the first Europeans traveled north through El Camino Real (The Royal Road), indigenous people were thriving in what was soon called Nueva México. In 1680, the Pueblo Revolt took place and the Pueblo People, under the leadership of Popé, exiled the Spanish settlers from Santa Fe after enduring decades of mistreatment.
A massive exodus from Northern New Mexico took place, which included the abandonment of the Piro and Tompiro Pueblos as well as many of the Southern Tiwa Pueblos, and caravans of people entered into Paso del Norte. It was there that the Pueblos of Ysleta, Senecu, Socorro, and Guadalupe were established and these Piro and Tiwa exiles coalesced with the Manso communities already living in the area.
The Athabaskan people entered into New Mexico by the 1400s, and established the Ndé and Diné communities. In more modern times, Cheis (known to many as Chiz or Cochise) was chief of the Chokonen band of the Chiricahua Apache and lived from 1805-1874. Cheis was most known for his travels between present-day Sierra County, just north of Las Cruces, and Arizona through what is now the Gila National Forest.
Geronimo and his Bedonkohe band of Apache people lived within the Territory of New Mexico from 1829 through 1909 (three years before New Mexico became a state). It's believed that Geronimo and other Apache people regularly utilized the geothermal hot springs at what was referred to then as Ojos Caliente (Hot Springs) near present-day Truth or Consequences, N.M.
The current Piro-Manso-Tiwa tribe is the tribe in Las Cruces that traces its ancestry back to the Pueblos of Paso del Norte and to the first people of the Mesilla Valley, and many current residents of Las Cruces are descendants of the Warm Springs and Chiricahua Apache, Mescalero Apache, the Jumano, Manso, Piro, Suma, Tapaxkolmeh, Jocome, Tigua (Tiwa), and Tortugas people.
El Camino Real
In 1598, working on behalf of the King of Spain, Oñate and his men made their way up from Mexico through the Great Pass of the North (modern-day El Paso) and through the Mesilla Valley, en route to what was to become Santa Fe. Their route became known as El Camino Real (the royal road), and it quickly became the preferred way to travel between Mexico and Santa Fe. Oñate's expedition marked the first major European colonization of North America, and the Camino Real helped establish southern New Mexico.
By the mid-19th century, southern New Mexico was becoming a popular stop for travelers on their way to the West Coast and Mexico. At the end of the Mexican American War in 1848, the United States took control of southern New Mexico. A rush of settlers looking to claim a portion of the undeeded land poured into the new territory, forcing local leaders to call upon the U.S. Army for assistance. The Army sent Lt. Delos Bennett Sackett and a team of men to help protect and organize the emerging communities. Sackett and his men plotted out 84 city blocks, each containing four plots of land, and residents were required to draw for their new home site. Soon enough, Las Cruces was on its way.
What's in a Name?
As the town grew, so did the need for a name. No one knows exactly how Las Cruces was selected, but most historians conclude it is derived from the Spanish translation for "the crosses." The coming of the railroad in the late 1800s brought even more prosperity to the up-and-coming town. In April 1881, the first train arrived in Las Cruces, and by 1900, the town population had tripled to nearly 3,000 residents.
In 1888, the New Mexico College of Agriculture & Mechanic Arts opened its doors, and in 1893 it graduated its first class of five students.
In 1907, Las Cruces was officially incorporated as a town, and in 1912, New Mexico was awarded statehood, becoming the country's 47th state. By this time, Las Cruces had its first water system, electric power, an ice factory, cold storage factory, cannery and steam laundry. Las Cruces also had a superintendent of schools and 13 teachers. Land sold for $25 to $50 an acre.
By the 1920s, Las Cruces' population was close to 4,000 residents, and by 1940, it was almost 9,000. But the United States' involvement in World War II dramatically affected life in Las Cruces. More than 2,000 New Mexicans died in the war, many of them on the Bataan Death March, and many of them were from southern New Mexico.
Another consequence of the war was a shortage of farm labor, leading to the establishment of the Emergency Farm Labor Program, which brought more than 900 German and Italian POWs to New Mexico to help farmers battle the labor shortage.
Ultimately, Las Cruces benefited from the war. The Tularosa Basin, east of Las Cruces, became one of the army's most important weapons testing grounds, and the Trinity Site, located at the basin's north end, was the site of the first atomic bomb exploded on Earth. By 1945, the Army Corps of Engineers declared White Sands Proving Ground an area of military necessity.
Today, both New Mexico State University (formerly New Mexico College of Agriculture & Mechanic Arts) and White Sands Testing Facilities are key components of southern New Mexico's economy. Both facilities have helped make Las Cruces the city it is today, and will hopefully continue to be a source of security and stability for the area's future.