Outdoor Recreation
Whether you're looking for scenic stroll, rugged path or challenging summits, Las Cruces offers a wide range of year-round outdoor recreation activities for people of all ages and abilities. Explore more than 250 miles of scenic hiking and biking trails, and 500,000 acres of public land while discovering must-see attractions like White Sands National Park and the Organ Mountains-Desert Peaks and Prehistoric Trackways National Monuments.
Sunshine and blue skies are the typical forecast as Las Cruces features and average of 320 days of sunshine each year, making it an ideal destination for year-round hiking, trail running, mountain and road biking, bikepacking, OHV use and much more.
Desert Explorer Prep  
Las Cruces is in the northern portion of the Chihuahuan Desert— considered the most diverse desert in the Western Hemisphere and one of the most diverse arid regions in the world. The area is largely an arid climate with most of the rain falling between late June and early October. While the desert offers many opportunities for recreation and provides solitude and a surreal landscape, extreme temperature and changes in weather patterns can make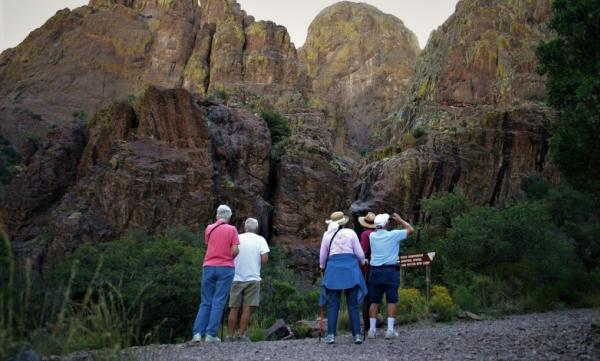 it a dangerous place to be if one is not prepared. Follow these tips for a safe outdoor experience.
Hydrate before you go and take plenty of water with you. 
Plan activities for cooler times of the day; avoid strenuous activity during extreme heat.  
Avoid hiking alone. If you do, let someone know where you are going and when you will return.  
Be prepared: learn the trail, know your limits and bring navigation aids.
Wear clothing that fully covers your body to protect it from the sun. Wear hiking shoes or boots to protect from surface heat and injury.  
Check the weather; avoid rural and low-lying areas when there is a chance for rain. Monsoon rains can come in fast and furious, causing washouts and flooding.  
Watch for animals, wild and domestic, and give them their space.  
  
While the Chihuahuan Desert can seem like a harsh environment, it's quite delicate. The sensitive flora and fauna respond quickly to seasonal changes and ecological damage, and degraded areas can take decades to be restored. Please take only photos, leave only footprints and follow Leave No Trace and Tread Lightly principles.
For more information, visit BLM.gov.