Farmers & Crafts Market
The Las Cruces Farmers and Crafts Market is one of the heartbeats of Las Cruces, and is an event that people look forward to weekly. Spanning over seven blocks on Main Street in downtown Las Cruces, the market has close to 300 vendors, with new ones added regularly. It was voted one of the "Top Farmers Markets in the Country" by Farmland.org.
Price

Free

Time

8:30 a.m. to 1 p.m.

Recurring weekly

Wednesday (mini market on Plaza de Las Cruces)

Saturday
The market first began in 1971 by farmers who wanted to sell their produce. After some time, bread made its way in, and eventually, more and more people came in wanting to sell their products.
The market has since continued to grow into a place to find handmade goods, art pieces, knick-knacks, baked goods, coffee, jewelry, food trucks and performers. Everything that is sold is made or produced by the vendor themself, so each good is local, handcrafted, and unique. Local produce is still a large aspect of the market, and you can find several vendors with local fruits, vegetables, honey, nuts, grass-fed pork and beef and much more. Singers, jazz artists, guitarists, magicians, and others are set up along the market to showcase their talents by providing entertainment to everyone passing by. The market is dynamic, inviting, diverse, and a great time for those of all ages.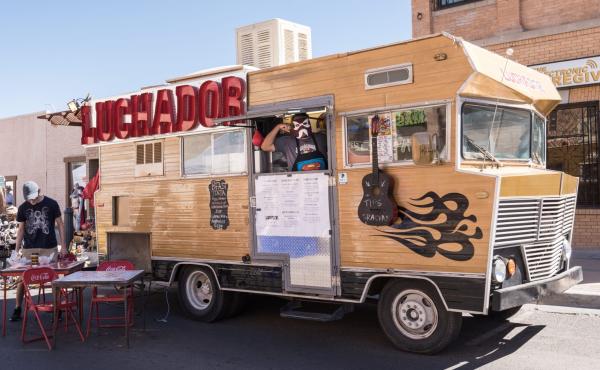 Local Produce/Food/FoodTrucks
Food truck fare in Las Cruces is delicious and sought-after by locals. Luckily, the market has several different ones lined up that serve Mexican food, baked goods, specialty drinks, and more. The food produced is authentic, local, and made by the vendors themselves. Some classic items that can be found are burgers, tacos, and all things green chile. The trucks are camped out throughout the market, and are a great stop for breakfast, lunch, or a refreshment while enjoying your time at the market.
Skip the grocery store and and grab fresh produce from local farmers and vendors. In addition to fresh fruits and vegetables, pick up marmalades, fresh baked goods, unique treats, sauces, meats and much more. Make sure to grab the market's famous, fresh kettle corn with or without a big of spice. 
Local goods
The market is also filled to the brim with original offerings. All are made by the vendor themselves, and they will often spend hours, or even days making and preparing their products. The goods sold are things such as homemade candles, hand knitted accessories, skincare items, soaps, wood pieces, leather pieces and more. There are also several vendors who create their own uniquely printed clothing items, many of which are New Mexico themed. You can find useful tools, self-care items, decorations for your house, and endless amounts and varieties of plants. There is something for everyone.

Jewelry
Jewelry items at the market are locally hand-crafted and designed. They often have touches of New Mexico and its wonderful culture. Necklaces, earrings, bracelets, and anklets are among the large array of different jewelry options available. The jewelry found can be delicate, dainty, and simple, but also colorful, bold, and unique. There is something for several different occasions, and to many different likings. The market is a wonderful place to connect with local and regional vendors and get a glimpse of what Las Cruces is all about. You can explore goods, art, jewelry, foods and local entertainment. Come be immersed in the culture of Las Cruces, and the local people who make it what it is.
Art
Las Cruces is home to several artists who create breathtaking and unique art pieces. The market is a place for these artists to showcase their talents and the beautiful inner workings of their mind. Paintings, sculptures, photography, prints, pottery, and ceramics are among the many kinds of art you will find. Each art piece showcases the individuality and creativity of the artist. There are art pieces for those of different ages and art backgrounds to enjoy.