LGBTQIA+
Known as a gay-friendly destination, Las Cruces has no shortage of LGBTQIA+-owned and operated businesses, restaurants, bars, and entertainment venues.
Whether you are in search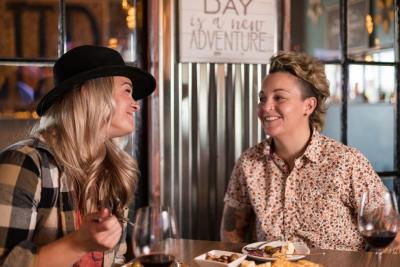 of a safe place to hang out for good conversation with friends, a high-energy drag show or a night of laughing and dancing, Las Cruces has a plethora of queer-friendly businesses to welcome you.
Visit Las Cruces
The Visit Las Cruces Visitor Center has a wealth of information on the city, surrounding southern New Mexico, and the entire state. Stop by Monday through Friday from 8am - 5pm at 336 S. Main Street in the heart of downtown or at any time peruse through our website's calendar of events for the most up-to-date information on festivals, events, activities and more!
PFLAG Las Cruces 
The mission of PFLAG is to create a caring, just, and affirming world for LGBTQ+ people and those who love them. They envision an equitable, inclusive world where every LGBTQ+ person is safe, celebrated, empowered, and loved. An integral part of the vision are events celebrating diversity and inclusivity. The PFLAG Las Cruces | Las Cruces NM | Facebook page is a great resource for upcoming activities, gatherings and special events.
Southern New Mexico Pride 
Southern New Mexico Pride seeks to provide the LGBT community with events and activities that are designed to unify the community and to be a resource for those seeking greater information and fellowship in the Las Cruces and southern New Mexico. One of the many inclusive events is the Annual SNM Pride Celebration held each year in October.
Las Cruces Farmers and Crafts Market
The nationally recognized Las Cruces Farmers and Crafts Market spans over 7 city blocks and is full of LGBTQIA+-owned vendors and gay-friendly merchants. The market celebrates Las Cruces and the surrounding area year-round every Saturday with local goods, wares, produce, cuisine, live music and more. A smaller market on Plaza de Las Cruces is held on every Wednesday.