End of summer may bring some activities to a halt, but in Las Cruces, the Real New Mexico, it is the start of the peak festival season. Located in the southern part of state, the sunseeker city is perfect for year-round outdoor recreation and events. Here is a preview of the must-attend festivals happening over Labor Day weekend in Las Cruces.
Harvest Wine Festival
Noon- 6 p.m. Saturday-Monday, Sept. 2-4, 2023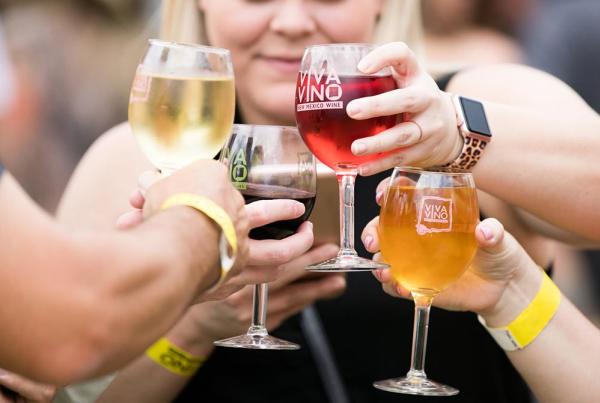 Hosted at the Dona Ana County Fairgrounds, the annual Harvest Wine Festival showcases New Mexico's exceptional wineries, diverse food truck cuisine, talented artisans, and a mixed genre of music entertainment. The three-day event is an annual tradition, offering something for every palate, from dry reds, sweet whites, sparkling bubbles, and anything and all in between. 
Admission for age 21 and over includes free wine tastings from over a dozen wineries showcasing over 200 wines, a commemorative wine glass, discount off bottle of wine to take home, and access to award-winning entertainment. If you are the designated driver, you are eligible for a discounted ticket that access to the event grounds and entertainment. Designed for fun of all ages, there are plenty of activities to enjoy while sipping on wine from the country's oldest wine producing region.
Ticket prices range from $10- $45.
More information
Franciscan Festival of Fine Art
9 a.m.- 5p.m. Saturday, Sept. 2, 2023
10 a.m.-4 p.m. Sunday, Sept. 3, 2023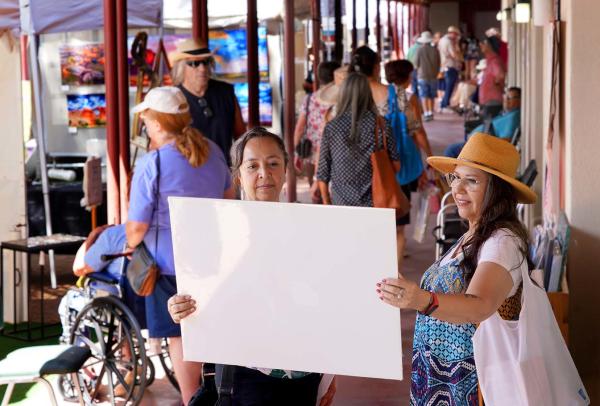 Each autumn amongst the majestic pecan orchards, the Franciscan Festival of Fine Arts welcomes talented local and regional artists to Mesilla Park. The diversity of displayed art is outstanding, featuring a multitude of vendors showcasing paintings, jewelry, ceramic, glasswork, woodwork, photographs, metalwork, quilts and much more. 
Held on the serene setting of the Holy Cross Retreat Center, the two-day Labor Day weekend event also hosts an annual enchilada dinner and silent auction, as well as a beer and wine garden. While perusing the grounds, you can enjoy musical entertainment as well as the tranquility of venue. All ages are welcome and there is much to do for everyone.
Admission is free, but a donation is highly appreciated.
More information
Franciscan Festival of Fine Arts 
Hatch Chile Festival
4 p.m. -10 p.m. Friday, Sept. 1, 2023
9 a.m.-10 p.m. Saturday, Sept. 2, 2023
Noon to 10 p.m. Sunday, Sept. 3, 2023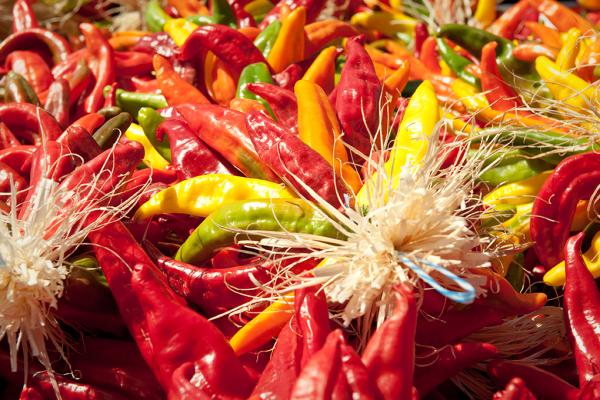 Located in the Chile Capital of the World and only a short drive from Las Cruces, the Village of Hatch hosts the Annual Hatch Chile Festival every year over Labor Day Weekend. Known to every chile lover, Hatch chile boasts its own unique flavor and the event allows you to enjoy it in a variety of ways. Whether you have a sweet tooth or enjoy something spicier, you will find cuisine to satisfy your craving. There is fresh chile roasting for the entire duration, allowing you to bring some home to enjoy right away or fill your freezer to stock up for the whole year.
The Hatch Chile Festival kicks off on Friday night with a beer garden and carnival. Then on Saturday morning, the festivities start with a parade. Designed for all ages, the festival boasts an abundance of food and craft vendors and a wide range of entertainment.
Admission is free. Parking costs may vary.
More information
Other Must-Visit Attractions
In addition to amazing festivals, Las Cruces offers a plethora of attractions and activities to enjoy Labor Day weekend as well as any other time of the year. While you are in town, take time to stop by one or more of them:
Sparky's Burgers
Enjoy the renowned green chile cheeseburger at Sparky's Burgers, Barbecue and Espresso in Hatch, NM. Recognized as one of the best burgers in the nation, be sure to add this stop to your Labor Day weekend during the Hatch Chile Festival.
More info Sparky's Burgers, Barbecue and Espresso
Pepper Pot
Stop by The Pepper Pot, Hatch, NM's signature restaurant for New Mexican food and a beloved spot by many locals.  
More info The Pepper Pot Restaurant
Las Cruces Farmers and Crafts Market
A weekly Saturday market spanning seven city blocks on downtown Main Street Las Cruces. Come see and shop vendors, jewelers, food trucks, fresh produce, knick knacks, entertainment and gifts anytime from 8:30 a.m. to 1 p.m. Free to attend. 
More info Las Cruces Farmer's & Crafts Market
Fine Art Flea Market
Occurs the first Friday of the month. Join vendors, artists and art lovers in the Las Cruces downtown plaza to celebrate and appreciate fine art. You're in luck, because September's evening market kicks off Labor Day weekend. Stop by downtown Main Street from 5 to 10 p.m. Free to attend.
More info Fine Arts Flea Market
Historic Mesilla
Visit this neighboring historic jewel and fulfill all your New Mexico-centric shopping needs. Find beautiful southwestern and Native American pieces, browse nearby shops for spices, apparel, books, housewares, condiments, and enjoy delectable wine, sweets or grab a meal and cold drink. Snap a pic on the historic plaza and visit the stunning basilica. 
More info Historic Mesilla or Shop Mesilla
New Mexico Farm and Ranch Heritage Museum
Learn more about our region and state's agriculture at the Farm and Ranch with educational and interactive displays, live cattle, a green house and ice cream.
More info New Mexico Farm and Ranch Heritage Museum

Get Outdoors or Out of Town
Plan a Day Trip: Las Cruces is centrally located, so no matter which direction you choose to go adventure awaits. Support some of the wonderful small communities and attractions that make southern New Mexico so beautiful.
More info Day Trips
 
Go for a Hike: Getting outdoors is a favorite past time for residents and travelers to Las Cruces, from the trekking the Organ Mountains-Desert Peaks National Monument to wading by the Rio Grande at Leasburg State Park there's plenty of places ripe for exploring. The summer sun is still out so if you are planning on doing some outdoor recreating, it's best to use safe practices.
More info Hiking Trails and Parks and Monuments
 
Day at White Sands National Park: Sled the dunes, have a cook out or bask in the wonder of the white sands. No matter what, bring sunscreen, shade and plenty of water.
More info White Sands National Park
Downtown Las Cruces
You'll find plenty to do on downtown Main Street. Visit some of the following locations for fun times and great vibes.
Check out all the attractions throughout Las Cruces, event and plan your visit here.
See more annual event in and around Las Cruces here.