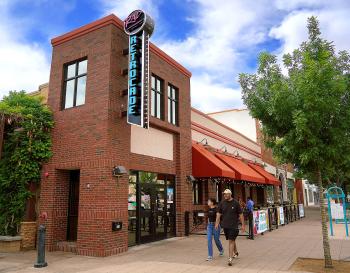 With summer here many are looking to head out for some fun. We know the joys of capturing those fun moments to share with friends and family. What better way to spruce up your Instagram feed than with some of Las Cruces' photogenic locations?
Here are few potential spots to suit your differing social aesthetics.
RAD RETROCRADE
Rad Retroarcade is a blast from the past and a place to capture a cool shot of you crushing it at the various arcade and pinball games. Grab a photo with the Rad sign outside, or take a shot of your food and fun mixed-drinks. As odd as it sounds, head into their bathrooms to capture a mirror shot with pink walls and artwork.
Tip: Rad is a dimly lit spot, ExpertPhotography.com suggests adjusting you ISO for low light, reducing shutter speed, and/or adding a flash.  
RIO GRANDE THEATRE
As one of the more notable historic buildings in town, the Rio Grande Theatre has a habit of popping up in local photos and video. It's a downtown classic without a doubt, especially once the sun is down for the day. Pose on the steps to the entrance or capture the notorious Rio Grande sign.
Tip: Underexpose a bit to capture a nice neon sign. It's easier to make something lighter than it is to make it darker. 
GROUNDED
For a hip coffee shop vibe, head over to Grounded where foodies can capture photographic grub and drinks. The lounge has grown in popularity with its great music taste and artsy interior. Capture yourself with their neon sign, cozy window couch, plant table, retro booth, or head outside and capture the feel of the plaza. Grab some closeups of your food, wide shots of the atmosphere, or just capture a moment out with friends.
Tip: Make use of portrait modes and crop around the subject matter! Get rid of unnecessary space.
DOWNTOWN MURALS
There are murals across the city of Las Cruces, some of the most recognized are downtown. Stop by the north side wall of Instacopy to find the Color Me Cruces mural in a post card style to show off your visit. Just across the street on the Coas Bookstore wall, book lovers can pose in front of the Gratitude mural made up of submitted quotes. If you head down the street, you'll find the Visit Las Cruces building and the Con Amor mural done in a post stamp style showing off some of the things that make the city so beloved.
Tip: Think of composition; rule of thirds is a great device here as you wanna capture the mural's art. Place yourself in the left or right third of the shot.
Tip 2: If you're taking a group picture be sure to capture plenty of shots in rapid succession as someone is bound to blink. 
LA PLACITA DOWNTOWN MAIN ST.
In between The Boneyard Cantina and Rad Retrocade you'll find La Placita and its beautiful mosaic, 'Earth and Cosmos.' The spot makes for a beautiful photo once the hanging lights turn on for the night making a lovely evening shot. Attend during the evening farmers market to get a nice crowd shot! 
At first glance the downtown area may be unassuming, but there are plenty of spots to capture a memorable photo. Whether it be for the gram or your photography course, downtown Cruces has lots to photograph if you look for it.
COAS BOOKSTORE
Lovers and enthusiasts of all things literature can capture a cozy bookstore shot between the rows and rows of bookshelves. Though fluorescents aren't anyone's favorite, the Coas Bookstore does have a nice portion of natural light that comes in through the shop windows. Capture a silhouette or get a nice shot of the morning sunshine. Play with your photo post-production to give it the feel you're looking for.
Tip: Look for framing and symmetry opportunities.
MILAGRO COFFEE Y ESPRESSO 
A coffeeshop of coffeeshops, Milagro is a go-to for many students and staff at the nearby New Mexico State University. Grab the perfect shot of latte art with their sweet pastries. Capture the moment you realize that 10-page paper was due Sunday at 11:59 a.m. not p.m. Or a soft image of you sipping on a great cappuccino.
Tip: Make the most of your coffee pic, Adorama.com suggests to shoot closeup, find soft light, find unique angles and/or use a clean or relevant backdrop. 
CALHOUN FLOWER FARMS
Bring out your sundress or overalls and get yourself to one of Calhoun Farms' U-Pick events to not only take home beautiful flowers but capture their vibrant flower fields. A moment in the flowers makes for the perfect summer shot, just make sure you be nice to the bees.
Tip: Remember when I mentioned angles? Get down in those rows to fill out the frame and capture that sky. Motion shots can create a more dynamic and authentic look.