By Kirsten Rodgers
Chile peppers are beloved and treasured by New Mexico and are a staple in the homes of many. With decades of chile growth and production in the state, it has roots that run deep in the hearts of New Mexicans. The Chile Pepper Institute (CPI) helped plant some of those roots, and it continues to cultivate them for New Mexico and the whole world!
What is the Chile Pepper Institute?
The Chile Pepper Institute (CPI) is an international organization that conducts research, educates people on the wonders of chile, and has been monumental in the world of chile production and breeding. People from all over come to visit the Institute to learn about chile peppers.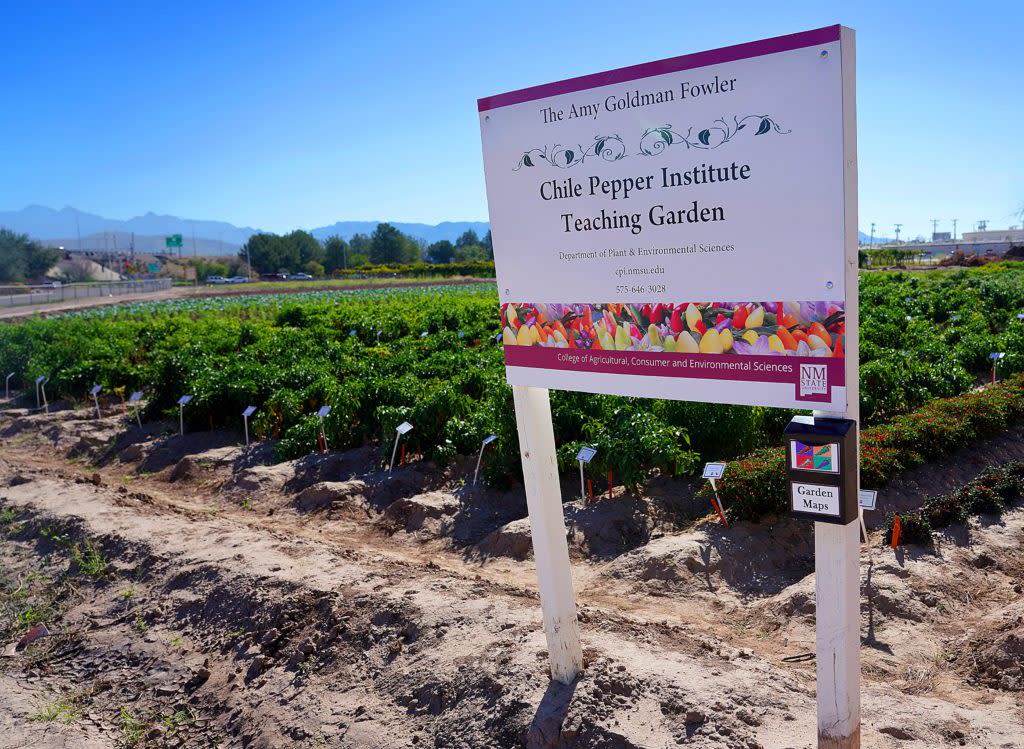 Though it's been growing peppers for over 100 years, the Institute was officially established in 1992. Since then, several new varieties have been produced and harvested. It almost always has more than 150 varieties yearly, so whether you like a lot of spice or a little, big or small, red or green, the institute grows it.
The Institute is associated with New Mexico State University, and all of the proceeds go to fund further chile research, as well as education at NMSU.
They provide opportunities for students to have real life agricultural experience out in the fields, as well as marketing experience for those working in the Chile Pepper store.
It is a wonderful place to come and discover more about the history, growth, and value of chiles!
World-changing beginnings
Dr. Fabian Garcia founded the beginning of chile research and development at the CPI. He was a part of the first graduating class from New Mexico State University (formerly known as New Mexico College of Agriculture and Mechanical Arts) in 1894.
He began breeding a new chile type, and in 1921 he released the "New Mexico 9" chile pepper. From this pepper, all of the other "New Mexican" chile varieties have been developed and grown.
Because of his work, many advancements in chile have come about here in New Mexico. The CPI's research center is named "Fabian Garcia Research Center" because of Dr. Garcia's accomplishments and legacy. To honor him, NMSU also has multiple buildings named after him.
For more information on Fabian Garcia, and what his work has produced, click here.
Chile growth and development
Danise Coon is the Senior Research Specialist for the CPI, and has been working with the Institute for almost 21 years. She specializes in breeding variations among chiles, and has plenty of knowledge on their growth and development. She also gives the guided tours through the garden, and makes the experience fun!
The first pepper shown in the garden is the Chiltepin, also known as the "mother of all peppers." From this one, all peppers are produced. It is also used to make the famous "Cholula" hot sauce. Birds love the Chiltepin. They pick them up, eat them, and drop the seeds. In this way, they become the main way it spreads.
The different chile breeds vary year-to-year at the Institute. They do taste panels to find out what people want (e.g. hotter or more flavor), and then produce new varieties based off that feedback.
Throughout the years, the Institute has produced fascinating chiles-both in look and flavor. Variations such as "NuMex Thanksgiving," and "NuMex Halloween," were given their names because of their exciting colors that match with the different holidays.
The chiles are more than just look and flavor. In 2014 their "NuMex Easter" won an "All America Selections" award for its ability to be grown anywhere in the U.S..
The CPI also grows some of the worlds hottest peppers, including the Bhut Jolokia (Ghost Pepper) which has over 1,000,000 Scoville Heat Units, and the Trinidad Moruga Scorpion, with over 2,000,000. Ouch!
Landscape Demonstration Garden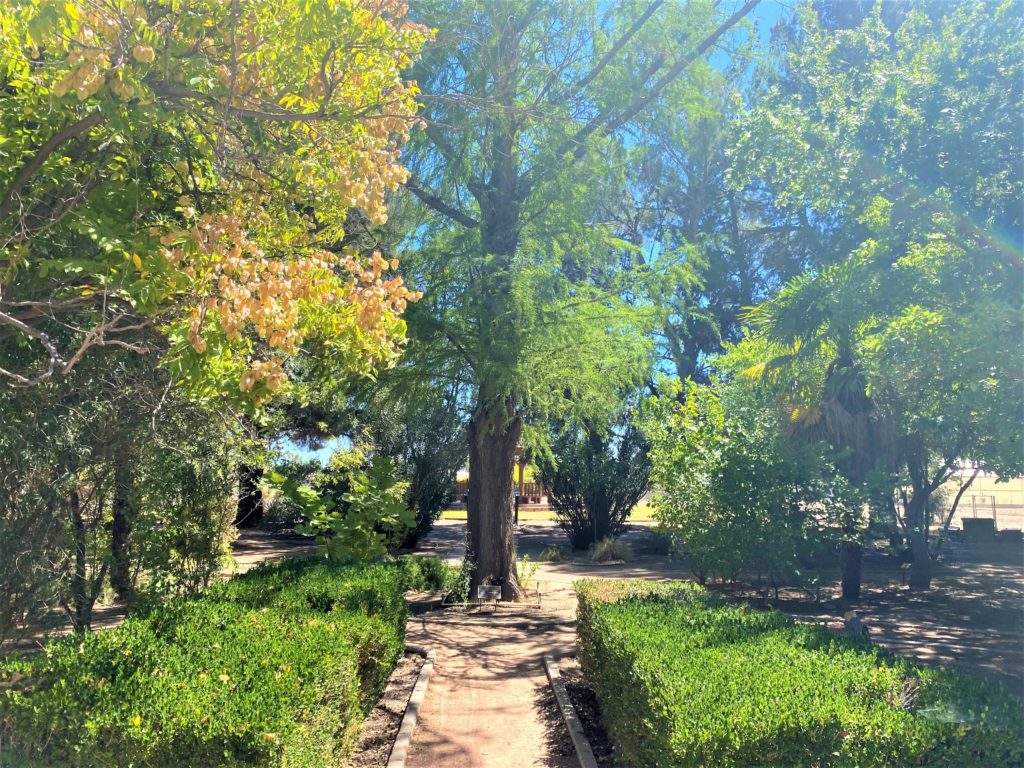 Right next door to the Chile Pepper Garden, is the "Fabian Garcia Botanical Garden." Here, there is a whole variety of plants and trees. Students help maintain the garden, and gain more agricultural experience here as well.
Placed behind all of the beautiful plants, is a gazebo that can be used for weddings, pictures, or to simply sit and admire the gardens from. The gazebo and garden are open to the public to visit every day from sunrise to sunset.
At the Chile Pepper Teaching Garden expect to...
... be in awe of how many chile varieties you will see!
... see peppers such as jalapeños, serranos, cayennes, habaneros, and bell peppers (among the other fun ones mentioned earlier).
... learn all about how chiles are grown and bred, as well as the different types of peppers and their families.
walk up and down the chile fields.
... learn fun facts and useful knowledge about chiles.
... feel closer to New Mexico and the wonderful world of chile.
The Chile Pepper store
The Chile Pepper store, located at New Mexico State University, Gerald Thomas Hall, Room 265, 940 College Dr., is where the chile seeds are sold, as well as several New Mexico-centered goodies. Some of the items sold are: hot sauces, jams, towels, cookbooks, candles, and notecards! They are open from 8 a.m-noon and 1-5p.m., Monday through Friday.
Purchases of these items can also be made online, and they ship all across the U.S..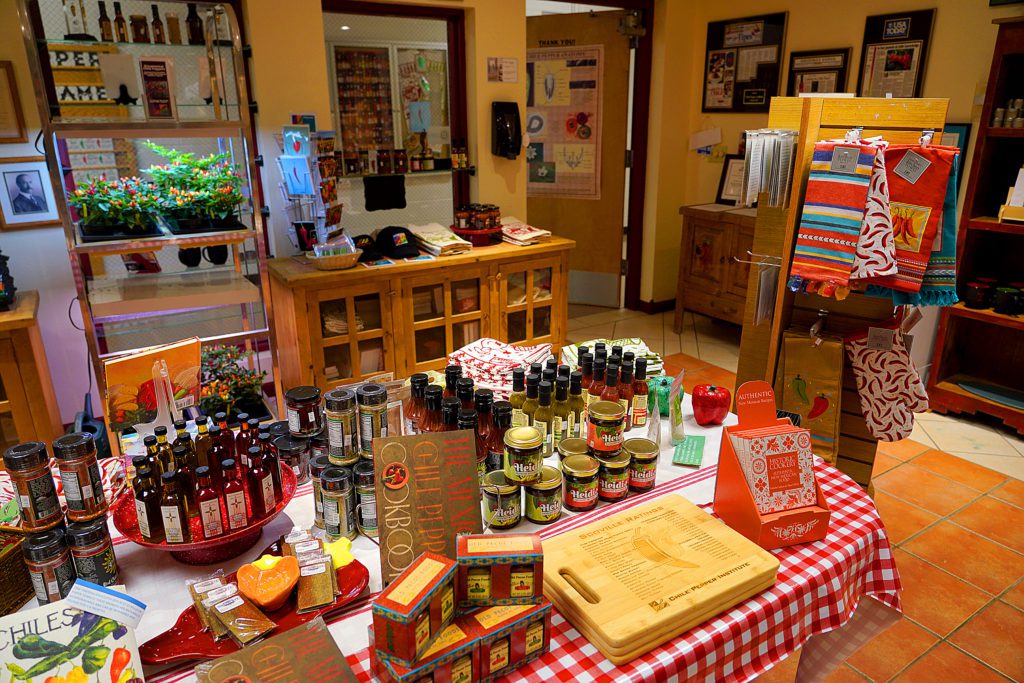 Come explore it!
Chile is such a wonderful world of discovery, and there is so much we can learn about it! 
Guided tours are available Monday through Friday at $25 per person for groups with five or less people, and $20 per person for groups of 6-20 people. School groups, 4-H groups, and other youth groups receive free tours.
Self-guided tours are also free Sunday through Saturday, from sunrise to sunset. The garden is located at 140 W. University Avenue.
For more information on tours, and step by step instructions for how to get to the garden, view tour options here.
Fun facts!
One fresh green chile has the same amount of Vitamin C as six oranges!
The Institute produced the "NuMex Big Jim" variety which is in the Guinness Book of World Records for the longest chile pepper at 13.5 inches.
The Tabasco pepper that creates Tabasco sauce is grown here.
Birds do not have receptors in their mouths to taste heat, so they can eat the peppers without feeling the burn the same way humans do.