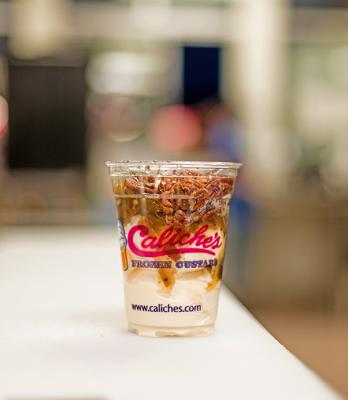 Summer heat in Las Cruces can require blasting that cool A/C and staying inside, but that can get old pretty fast. Nothing beats ice cold drinks, a splash in the pool, and sweet treats! Here are few places to beat the heat and find some summer fun.
Caliche's Frozen Custard
Originating on Valley Drive, Caliche's has now expanded to include two more locations across town. Offering a bit of everything for everyone, one can treat themselves to frozen custard, sundaes, smoothies, shakes, malts, floats, and the list goes on. Sweet treats are their specialty and you're more than sure to find something to scoop up.
Locations: 590 S. Valley Dr. | 131 N. Roadrunner Pkwy | 1000 Lenox Ave.
Spicy Bean
If you're in need of a boost, skip on over to Spicy Bean in Dona Aña where you can find specialty Red Bull drinks of all types of combinations. You're more than welcome to make your own flavor combo and if energy isn't what you're looking for they've got lemonade, Italian cream sodas, and raspas (shaved ice) galore! This family business is always adding new things to their menu so don't miss out!
Personal Rec: 'The Fix,' made with Red Bull, watermelon, pomegranate, and their own Chilaso spicy powder
Location: 641 E. Thorpe Rd.
.
Paleteria La Reyna Michoacana
Aguas frescas, fresas con crema, paletas of all flavors, La Michoacana has it all. Popsicles made of fruit and cream, ice cream topped with nuts, chips covered in cheese or Valentina hot sauce, fruit cups soaked in chamoy and chile, and corn slathered in butter, chile powder, and powdered cheese. Head inside to snag some spicy (or sweet) Mexican candies and treats for all your events and don't forget the pinata!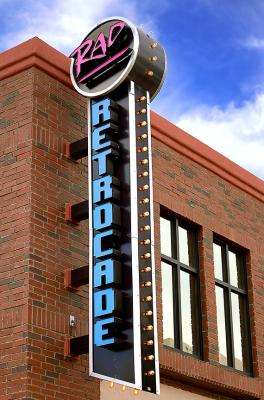 Location: 870 E. Madrid Ave.
Rad Retrocade
Head downtown to enjoy a nice day inside reliving the good old days. Pinball, Tetris, Pac-Man, and Space Invaders clash with Mario Kart, The walking Dead, Minecraft and more. Enjoy the savory munchies and the cool sweet treats whilst basking in the abundance of pop culture references. Great for parents and kids alike as kicking butt with joysticks has no age limit  ­­­­̵̵̵̶̶̶  unless it is after 7 p.m. at which the Retrocade is only available to those who are 21 and older.
Location: 201 N. Main St.
Plaza de Las Cruces Splash Pad
Since you're already there, grab the kids and cool off with the city's splashpad right across the street. A little water isn't a bad idea with the summer heat.
Las Cruces Regional Aquatic Center
All your splashing needs can be met indoors as the center provides lap lanes, a water slide, warm water pool, activity pool, and plenty currents for you to go against. If water isn't your thing the center has a gym and fitness room upstairs.
Location: 1401 E. Hadley Ave.
For more pool fun visit the newly opened Las Cruces Natatorium at 1405 E. Hadley Ave., and other outdoor and indoor facilities like the East Mesa Bataan Memorial Pool at 6141 Reynolds Rd. and the Laabs Pool at 750 W. Picacho Ave.
Anytime you spend summer in Las Cruces, NM be sure to lay on the SPF with a good sunscreen, drink lots of water, stay safe and stay cool! Note that the Regional Aquatic Center and outdoor pools do have fees to use their facilities. Remember to be respectful and considerate of your surroundings!
Let us know of some of your favorite places to cool off on our social media @visitlascruces.