Known for its rich history and culture and mouth-watering flavors, Las Cruces, New Mexico, is the place to be this holiday season with festive events, year-round hiking and biking trails, and classic New Mexican holiday dishes.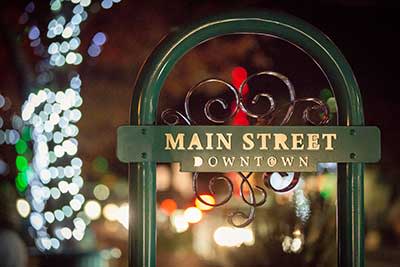 Whether you're looking to start a new family tradition of a holiday vacation or you're searching for a warmer climate for winter outdoor recreation, the month of December in Las Cruces comes to life with holiday magic, outdoor thrills, and of course, our world-famous holiday recipes. Stuff stockings with local food items, enjoy unique holiday celebrations, and indulge in spicy dishes from foodie favorite restaurants.
To make the most of your trip, plan your visit to coincide with an iconic Las Cruces holiday celebration, including:
Annual Tree Lighting – On Saturday, December 4, the City of Las Cruces kicks off their holiday season with the annual tree lighting at the Downtown Plaza de Las Cruces. From 6–8pm, listen to live music and enjoy refreshments. The tree lighting will take place at 7pm.
Mesilla Christmas Eve on the Plaza –Rich with history, a visit to Mesilla offers a glimpse into the area's past, and on Christmas Eve, the area will be aglow with the light from thousands of luminarias.
Las Cruces New Year's Eve Chile Drop - For those visiting later in the holiday season, the Las Cruces Chile Drop on Friday, December 31 at the Downtown Plaza de Las Cruces offers a one-of-a-kind welcome to the New Year ahead. The event includes live music, local food trucks, and a celebration of New Mexico food and culture.
In addition to festive events, Las Cruces offers a mild year-round climate, making it an ideal location to escape the winter chill and explore the vast, scenic outdoor spaces. Visitors can enjoy variety of hiking and biking trails for all skill levels—all with breathtaking views—or make it a "white Christmas" with a visit to nearby White Sands National Park. Throughout the holiday season, celebrate in "Christmas" style with the area's iconic red and green chile, and stock up on foodie favorites to make Las Cruces dishes like rellenos, enchiladas and tamales at home.