If you're looking for some outdoor fun and relaxation, try a nice float down the Rio Grande. Grab your supplies and head over to Southwest Expeditions to get in on the river fun.
Getting There
Visit Las Cruces gave it a go to share the experience with you. Southwest Expeditions sets up shop at the Calle Del Norte Bridge on the Rio Grande near the entrance to the Mesilla Valley Bosque State Park on weekends from 9:30 a.m. to 3:30 p.m. When you arrive, you will park and head into the Southwest Expeditions tent to check in. From there you will be shuttled up to La Llorona Park where you will float back down to your vehicle.
The float is about two hours in length covering an approximate 3.5 miles down the river. Southwest Expeditions provides float tubes, lifejackets, and transportation up the river with your rental. A cooler float can also be rented for you to utilize while on the river.
Note: Remember to bring your own cooler! Only a cooler float will be provided, don't make the same mistake we did….
I recommend bringing a paddle if you have one, it comes in handy for steering clear of foliage, river islands, and the riverbank. Be on the lookout for low-hanging tree branches as they can sneak up on you. 
The Float
Overall, the experience is pretty neat, I'd day the first half hour is a nice lazy float, and let me say you can get a great view of the mountains. You can get some great shots while out there, though the sun can be a bit bright so be sure to bring your sunglasses and lather on that sunscreen.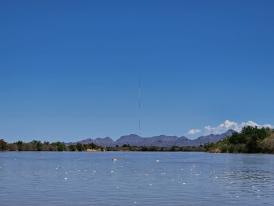 Once you pass under the Interstate 10 bridge you do start to encounter some of those mini-islands in the river. This is where that paddle comes in handy as it'll help you choose which way you'd like to go as the river splits into different directions that rejoin again. Be wise in selecting which path you'd like to take as some are narrower than others.
If you'd like to take a cellphone or camera, I highly suggest you bring a waterproof dry bag to keep those electronics safe. The river doesn't have too many twists, turns, or rapids, but it's always better to be safe than sorry. If you don't have one, or can't buy one, I personally wore a belt bag high across my chest and tucked into my lifejacket to keep my devices dry.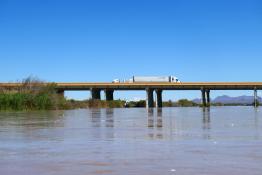 Maybe don't splash around too much if that's the case. But from my experience you shouldn't be getting too soaked out there. 
I recommend renting the cooler float and bringing your drinks of choice as well as plenty of ice. The sun is no joke here in Las Cruces, so staying hydrated is important (bring some water, not just booze). I also think that bringing a nice sunhat as opposed to a ballcap may be a nice tip as you'll find yourself twirling in all directions so getting the best coverage is optimal.
You are likely to encounter some ducks while out there so be mindful of them and don't be startled if you hear a turtle dive in either. I'd also like to give my kudos to all the cyclists you'll see who are out zooming by at this time of year.
Southwest Expeditions
This particular experience is quoted to cost you about $28 plus tax per person. As previously mentioned, a life jacket, float, and shuttle will be included with your rental rate. However, the cooler float is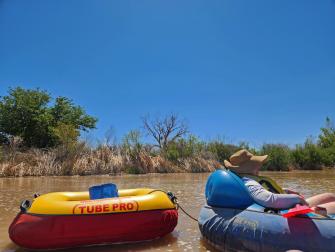 a separate cost between $10-15 depending on the size. If wanting to float during the week, Monday through Friday, a reservation is required with a minimum of four people. Weekends on the other hand require no reservations and no minimum number of people. Southwest Expeditions will keep your ID and credit card info on file at the tent whilst you are on your float and until you return. 
Southwest Expeditions also offers kayaking on the Rio Grande as well as events at Caballo Lake, you can access their website for more detailed information here.