Messaging, logo, guide, website reflects new direction in state, national marketing 
Today, Visit Las Cruces (VLC), the official destination marketing organization for the city, formally launched its new look and bold tagline that fully exemplifies the vibrant culture, lively attractions, expansive outdoor rec opportunities, and countless amenities the city has to offer.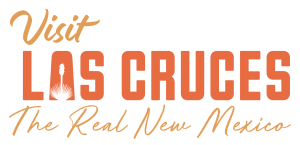 It has been nearly a decade since Visit Las Cruces has updated its branding. Together with NMCO Creative Studio, a new logo, color scheme, messaging, visitors guide, merchandise, advertising and digital campaign were created. The collaborative effort established a vision that conveys for travelers the rugged beauty, diverse culture, abundant attractions, and neighborly charm that Las Cruces and its surrounding region have to offer.
"It's a modernization of the brand, moving Las Cruces forward to remain competitive in tourism on a state, regional and national level," Assistant City Manager Ikani Taumoepeau said. "It is a bold statement, but one we're certain residents will embrace and one that will pique the interest of potential travelers."
The new brand draws from the tagline "The Real New Mexico" to emphasize the authentic and rugged spirit of the city, through gritty, bold textured icons, text and images countered with a bright palette of colors that reflect the warmth of the community. Las Cruces is an untapped city of real people with real stories. Our strengths directly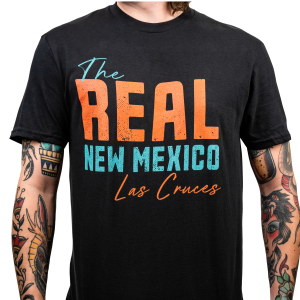 come from our vibrant culture, expansive landscapes, art, music, food, rich history and people. Retirees, students, families and professionals all reside in our city and make it a community that travelers say they feel welcome in. The messaging itself highlights Las Cruces and southern New Mexico attractions with playful and cheeky imagery and tone that reflect the relaxed energy, humor and warmth of the area.     
"We're embracing our city and region's strengths by creating a brand with the surrounding southern New Mexico communities in mind," VLC Marketing Director Lorena Lozano said. "It opens itself up to future collaborations in a region that often feels overlooked." 
Marketing efforts include a new website, visitors guide, remodeled visitors center, print and digital information material, broadcast and radio commercials, billboards, a digital and social media campaign, merchandise, and more. New collateral is already being used by the VLC sales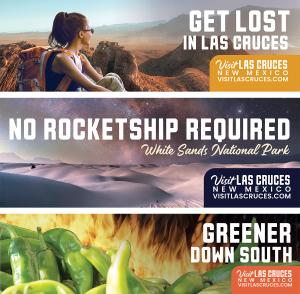 team to promote the city and its resources, facilities, outdoor recreation, attractions, lodging and amenities to industry professionals at national and international trade shows and conferences.
The purpose of Visit Las Cruces is to promote the city as a premiere travel destination on a state, regional, national and international level, generating tourism dollars that result in positive economic development. Tourism is a multi-million-dollar industry that supports local businesses and the hospitality industry (food, beverage, tourism, lodging and recreation). According to the New Mexico Tourism Department Recovery Update, in 2020 alone visitor spending in Doña Ana County totaled more than $407 million with the hospitality industry making up nearly 10% of the county's workforce.