By Kirsten Rodgers
 

View this post on Instagram

 
With the kick off of fall, we can't help but get excited thinking about all of the things that come along with it. From the sweet smells of fall, to picking out pumpkins, Las Cruces has several things to offer this time of year, so you're in for a (trick-or-)treat! Here are a few fall things to enjoy in Las Cruces! 
Did Someone Say Coffee?
One of the best parts of fall is the delicious and bold flavors-specifically in coffee. Las Cruces is home to many local coffee shops that serve house-roasted beans, home-made flavors, and homey-feels. From pumpkin spice to cinnamon rolls, these coffee shops have you covered. Here are a few places that are serving up some fall drinks/food that are sure to get you into the cozy, fall mood.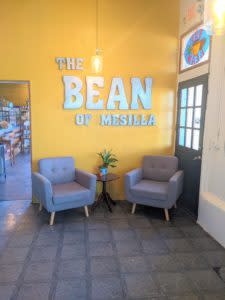 The Bean of Mesilla, 2011 Avenida de Mesilla, is a beloved location in Las Cruces. With its comfy and cozy atmosphere, welcoming staff, in-house roasted beans and home-made pumpkin syrup, it is the perfect place to get your coffee fix. 
Their specials this season include:
Pumpkin Patch Latte-made with their house-made pumpkin syrup and topped with cinnamon.                                                                                                              Autumn Latte-made with vanilla, honey, and cinnamon. Caramel Apple Latte-a fall favorite according to The Bean!
They've got many different flavors and options, so whatever gets you in the fall mood, they've got it (non-dairy options available).
In addition to coffee, freshly baked goods are a staple for The Bean, and they are not shy this season in bringing in some unique and tasty fall flavors. 
 

View this post on Instagram

 
You can enjoy:
Pumpkin Chai Scones Maple Bacon Scones Pumpkin Cinnamon Rolls Pumpkin Cheesecake Brownies *Cue mouth-drooling
Could it get any more fall than that? 
Scott Kohler, co-owner of The Bean, expressed that it is important to them to support other local businesses. They do this by selling local artists' products such as soap, coffee mugs, cards, and more. So if you want to do a bit of early holiday shopping while you sip your coffee and munch on your scone, The Bean also has you covered. 
With two locations, The Bean of Mesilla is open 7:30 a.m.-5 p.m. Monday through Saturday, and 7:30 a.m.-3 p.m. Sunday. The Bean at Josefina's is located at 2261 Calle De Guadalupe, and is open 7:30 a.m.-3 p.m. Sunday and Saturday.
Mom's Coffee: Owned by a mother herself, this cozy coffee house, located at 1001 E. University Ave. D2, is filled with delicious coffee, freshly baked goods, and little knick-knacks. 
They've got their own twists on fall classics: their Pumpkin Pie Latte features pumpkin spice with white chocolate and a pumpkin cloud foam. They are also serving up a Fall Chai that consists of a pumpkin pie loose leaf tea with honey, cinnamon bun syrup, and milk. 
In addition to these special fall drinks, they have flavors that can be added to any drink all year long: pumpkin spice, gingerbread, toasted marshmallow, cinnamon, cinnamon bun, and more (non-dairy options available).
Mom's won't leave you hungry, they've also got some scrumptious fall baked goodies: pumpkin spice muffins, carrot cake, cinnamon rolls, apple turnovers, and a variety of scones. Oh my!
They are open 7 a.m.-4 p.m. Monday through Friday, 9 a.m.-2 p.m. Saturday, and closed on Sunday. 
Picacho Coffee Roasters, 200 W. Conway Ave. unit A, is another beloved staple here in Las Cruces.
This fall season, you can enjoy their new cinnamon syrup to give your drinks a little fall kick (non-dairy options available). 
You can also come enjoy their new maple glazed pumpkin pie scone, or their pumpkin bar with cream cheese and crystalized ginger on top. Wowza! They will be coming out with even more fall themed things in the weeks to come, so keep an eye out on their Instagram: @picachocoffee
Their hours are 7:30 a.m.-3 p.m. Monday through Friday, 8 a.m.-3 p.m. Saturday, and closed on Sunday.
Did Someone Say Pumpkins and Corn Mazes? 
The Mesilla Valley Maze is loved and looked-forward to by the Las Cruces community every year and provides fun for everyone. From Sept. 24-Oct. 30, every Saturday and Sunday from 11 a.m.-7 p.m., you can come enjoy the corn maze, hayride, pumpkin patch, duck races, play areas, and more. Adult admission is $18, youth 12 and under are $14, and children two and under are free. *There is a $2 discount-with military ID
In addition to the weekly fun the Mesilla Valley Maze offers, they also have special events to be a part of. 
 

View this post on Instagram

 
October 1 and 2 they have their annual Fall Festival that will include contests, live music, a balloon toss, and more. 
If you enjoy flowers and watermelon eating contests, come attend their Flower Festival on October 8 and 9 where they will also have live music, contests and more. 
Lastly, they have their Pumpkin Festival on October 29 and 30 that includes a pumpkin pie eating contest, tour de maze, live music, and more. 
More information can be found at www.mesillavalleymaze.com.
 

View this post on Instagram

 
What is Fall Without Fall Candles?
Candles are one of the perfect ways to fill your home with the delightful and cozy smells of the season.
Kandle Karma, a local family business, provides just that. Their fall scents include: Pumpkin Soufflé, Cran-apple Marmalade, Brandied Pear, Roasted Marshmallow, Vanilla Chestnut, and Mountain Pine. Note, you may be tempted to eat them, so use with caution. You can visit them at the Las Cruces farmer's market every Saturday from 8:30 a.m.-1 p.m. in front of the Rio Grande Theatre, or order from them online at www.KandleKarmaetc.com
Some Unique Things in Las Cruces This Time of Year
It is chile and pecan season, and New Mexico is the hub for both! Hatch, NM is the green chile capital of the world, and pecans are grown locally, so make sure to get some while in town. 
The Hatch Green Chile Store is locally trusted and well-known. The chile is grown in a place that has farmed it for over 100 years, and they've got plenty of variety. Check out their online store while in town. Red or green!                www.hatch-green-chile.com
Legacy Pecans, 2355 Calle de Guadalupe, provides yummy varieties of local pecans. Whether it be cinnamon praline pecans, pecan sauce, or regular pecans to put on your pecan pie, they've got you covered. They even sell pecan coffee! Mmmmmm!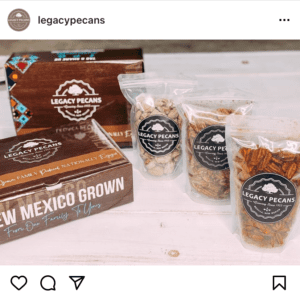 Hours: 12 p.m.-4 p.m. Sunday and Monday, 11 A.M.-5:30 p.m. Wednesday through Saturday, and closed Tuesday.