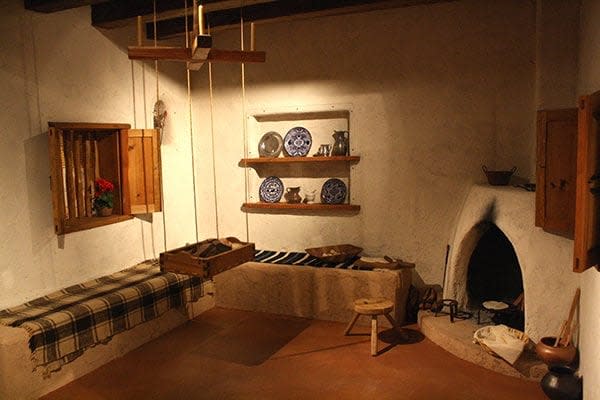 The New Mexico Farm & Ranch Heritage Museum in Las Cruces has a new indoor structure that takes visitors back to another time in history.
The New Mexico Colonial Home was built in the museum's Heritage Gallery and is the centerpiece of the Spanish Colonial section of the gallery. New Mexico's Spanish Colonial period was from 1598 -- when the Spanish first settled in the region -- to 1821. The time period for the home is 1815.
Like two other structures in the museum's 20,000-square-foot gallery -- Home Sweet Home and the Mercantile – the New Mexico Colonial Home is an exhibition that allows visitors to walk through, giving them a feeling of stepping back in time.
"This is an immersion experience," said Chief Curator Toni Laumbach. "Visitors will enter and go back in time, all the way to 1815."
The home is made of adobe plaster and lots of wood, in the form of posts, vigas, latillas, corbels and lintels, that gives the structure an authentic, traditional look. It includes two rooms – a living room and courtyard, or placita.
The living room features a fireplace, a baby cradle, furniture and traditional wares, and the courtyard has an horno oven, grain chest, tools and replica items. The artifacts and features of the New Mexico Colonial Home are based on archaeological information from excavations, wills, and inventories from the late 1700s to 1800s.
The exhibit home was built by the museum's exhibits department over the course of about three months.
Most houses of the period followed a design typical of the regions surrounding the Mediterranean Sea (Southern Europe, the Middle East and North Africa), with single rooms built end-to-end around a central courtyard. Doors and windows from each room opened onto the courtyard.
The exhibit also features several informational panels that explain some of the aspects of the Spanish Colonial period. They include El Camino Real (the Royal Road of the Interior), which extended 1,700 miles from Mexico City to Santa Fe, the Pueblo Revolt that began in 1680, exploration and colonization and transportation.
The museum, located at 4100 Dripping Springs Road, is open from 9 a.m. to 5 p.m., Monday through Saturday, and from noon to 5 p.m. on Sunday. Admission is $5 for adults, $3 for senior citizens, and $2 for children 5 to 17. For more information, please call (575) 522-4100.